Description

Package Content
Details
12.5inch Universal Portable Touch Monitor, HDMI/Type-C Port, 1920×1080 Full HD, IPS Screen
12.5" Touch Monitor
Size

12.5"

Resolution

1920×1080

Display Port

Type-C/HDMI

Display Panel

IPS

Viewing Angle

178°

Touch Type

Capacitive

Touch Points

10-Points

Touch Port

Type-C/USB

Touch Panel

Toughened Glass

Display Feature

High Dynamic Range

OSD Menu

Brightness/Contrast

USB Extension

External Devices

Sound

Hi-Fi Speaker

Audio Output

3.5mm Jack

Gaming

Xbox360/PS4/Switch

Smartphone

Huawei/Samsung...

Enclosure

Polycarbonate

Protective Case

3 Angle Options
Device & System Support
Raspberry Pi
Supports Raspbian, 10-points touch, driver free
Supports Ubuntu / Kali / WIN10 IoT, single point touch, driver free
Supports Retropie, driver free
Supports all versions of Raspberry Pi
Jetson Nano
Supports Ubuntu, single point touch, driver free
PC
Supports Windows 11 / 10 / 8.1 / 8 / 7, 10-points touch, driver free
Game Console
Xbox360, PS4, Switch...
Smartphone
Huawei, Samsung, OPPO, LG, HTC...(mirror cast)
Connection Examples
Working with Raspberry Pi 4
Working with Raspberry Pi 3B+
Working with Raspberry Pi Zero W
Working with AI Computer Jetson Nano
Working with Full-Featured Type-C mini PC
Working with Full-Featured Type-C Smartphone
Display Panel
HDR Feature
HDR (High Dynamic Range) technology, delivering more realistic and colorful visual effect

Touch Control
1) up to 10-points touch, depending on the operating system. 2) up to 6H hardness toughened glass panel.
Audio Feature
Enjoy Gaming

Full-Featured Type-C Port
Audio and video transmission in one connection
One cable is just enough for either computer dual-screen OR Smartphone mirror cast
Appearance and Dimensions
Applicability
(including but not limited to)
Category
Compatibility
mini PC
Supports popular mini PC like Raspberry Pi, Jetson Nano, BB Black, etc.
When working with Rasperry Pi, supports Raspbian/Ubuntu/Kali/Retropie/WIN10 IoT, driver free
PC
Supports desktop computers with HDMI port
Supports Windows 10/8.1/8/7, 10-points touch, driver free
Notebook
Apple
MacBook 12", MacBook Pro, MacBook Air, iPad Pro 2018
HUAWEI
MateBook, MateBookX, MateBookXPro, MateBookE
Honor
Magic
MI
Air 12.5/13.3", Pro15.6", MI gaming laptop
Lenovo
Yoga5 Pro, ThinkPad_XI Carbon 2017, Miix 720
HP
Pavilion x2, EliteBook Folio G1
DELL
XPS13, XPS15
Google
ChromeBook Pixels, PielBook Pen
Razer
Blade/Blade Stealth
Microsoft
Surface Book 2
ASUS
ZenBook3, U306, U321 series, U4100, ROG series
Smartphone
HUAWEI
Mate10, Mate10 Pro, Mate20, Mate20 Pro, Mate20 X, P20, P20 Pro
Honor
Note10, Magic 2, V20
HTC
U Ultra
LG
G5
Razer
Razer Phone, Razer Phone 2
ASUS
ROG gaming phone
OPPO
R17 PRO
Samsung
S8, S8+, S9, S9+, S10, Note8, Note9
Resources & Services

Product Certification
HDMI Certified
Support touch screen customization
Support the following ways to customize the touch screen display in bulk order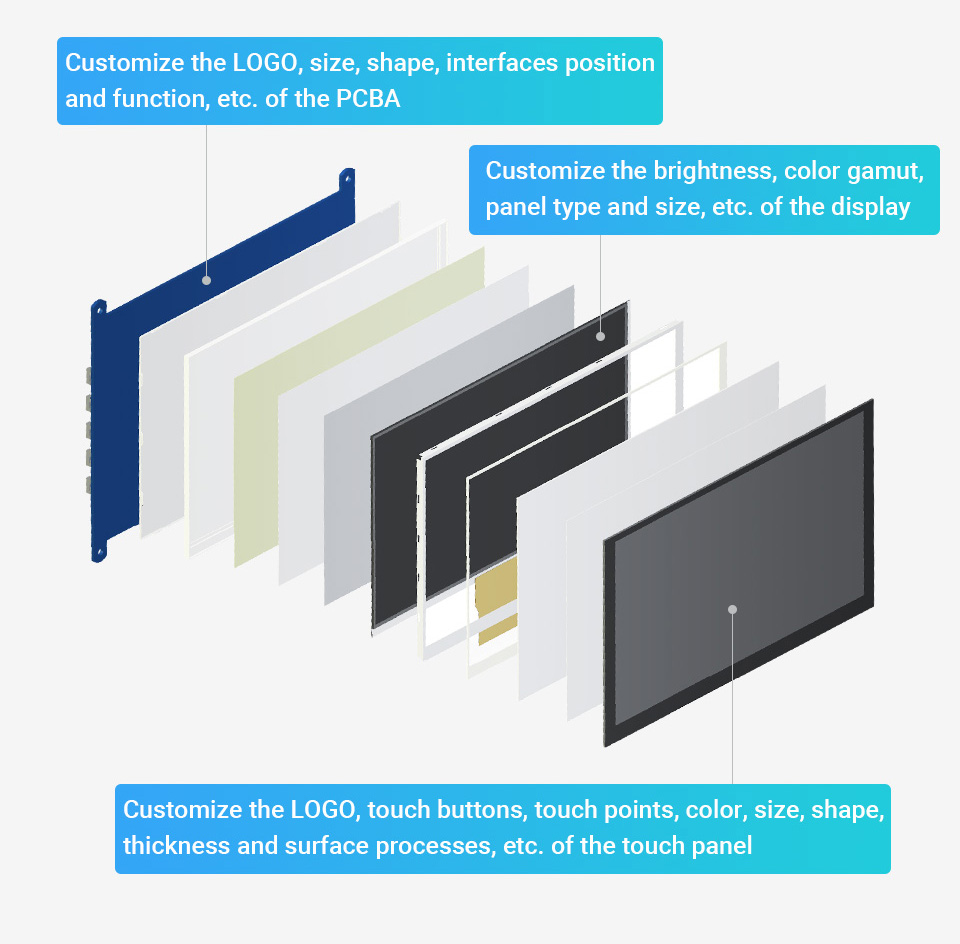 Over a decade
Waveshare grows with display
* Waveshare has been focusing on display design for over 10 years.
Selection Guide
PartNumber
Display
Touch
Audio
Device Support
Resolu-tion
Display Port
Display Panel
View Angle
Touch Type
Touch Port
Toughened Glass Panel
Optical Bonding
Spe-
aker
Signal Output
Pi
JETSON NANO
PC
SPI DISPLAYS
PROS: low price.
CONS: low refresh rate & resolution, supports Raspberry Pi only, requires Raspberry Pi 40PIN GPIO (the SPI bus), poor compatibility with Raspberry Pi system.
3.2inch RPi LCD (B)
320×240
SPI
TFT
–
Resistive
SPI
×
×
×
×
√
×
×
3.5inch RPi LCD (B)
480×320
SPI
IPS
160°
Resistive
SPI
×
×
×
×
√
×
×
3.5inch RPi LCD (C)
480×320
High-Speed SPI
TFT
–
Resistive
SPI
×
×
×
×
√
×
×
4inch RPi LCD (C)
480×320
High-Speed SPI
TFT
–
Resistive
SPI
×
×
×
×
√
×
×
DPI DISPLAYS
PROS: low price, high refresh rate, multiple resolution support, better compatibility with Raspberry Pi system.
CONS: supports Raspberry Pi only, requires Raspberry Pi 40PIN GPIO.
2.8inch DPI LCD
480×640
DPI
IPS
160°
Capacitive
I2C
√
√
×
×
√
×
×
3.5inch DPI LCD
640×480
DPI
IPS
170°
Capacitive
I2C
√
×
×
×
√
×
×
4inch DPI LCD (B)
480×800
DPI
IPS
170°
Capacitive
I2C
√
×
√
√
√
×
×
4inch DPI LCD (C)
720×720
DPI
IPS
170°
Capacitive
I2C
√
√
×
×
√
×
×
5inch DPI LCD
800×480
DPI
IPS
160°
×
×
×
×
×
×
√
×
×
7inch DPI LCD
1024×600
DPI
IPS
170°
×
×
×
×
×
×
√
×
×
DSI DISPLAYS
PROS: moderate price, high refresh rate, leaves the Raspberry Pi 40PIN GPIO free, better compatibility with Raspberry Pi system.
CONS: supports Raspberry Pi only.
2.8inch DSI LCD
480×640
DSI
IPS
160°
Capacitive
I2C
√
√
×
×
√
×
×
3.4inch DSI LCD (C)
800×800
DSI
IPS
170°
Capacitive
I2C
√
√
×
×
√
×
×
4inch DSI LCD
480×800
DSI
IPS
170°
Capacitive
I2C
√
×
×
×
√
×
×
4.3inch DSI LCD
800×480
DSI
IPS
160°
Capacitive
I2C
√
×
×
×
√
×
×
4.3inch DSI LCD (with case)
800×480
DSI
IPS
160°
Capacitive
I2C
√
×
×
×
√
×
×
5inch DSI LCD
800×480
DSI
TFT
-
Capacitive
I2C
√
×
×
×
√
×
×
5inch DSI LCD (B)
800×480
DSI
IPS
160°
Capacitive
I2C
√
×
×
×
√
×
×
7inch DSI LCD
800×480
DSI
TFT
-
Capacitive
I2C
√
×
×
×
√
×
×
7inch DSI LCD (with case A)
800×480
DSI
TFT
-
Capacitive
I2C
√
×
×
×
√
×
×
7inch DSI LCD (with cam)
800×480
DSI
TFT
-
Capacitive
I2C
√
×
×
×
√
×
×
7inch DSI LCD (with cam and case)
800×480
DSI
TFT
-
Capacitive
I2C
√
×
×
×
√
×
×
7inch DSI LCD (C)
1024×600
DSI
IPS
170°
Capacitive
I2C
√
×
×
×
√
×
×
7inch DSI LCD (C) (with case A)
1024×600
DSI
IPS
170°
Capacitive
I2C
√
×
×
×
√
×
×
7.9inch DSI LCD
400×1280
DSI
IPS
170°
Capacitive
I2C
√
×
×
×
√
×
×
8inch DSI LCD
800×480
DSI
TFT
-
Capacitive
I2C
√
×
×
×
√
×
×
8inch DSI LCD (with cam)
800×480
DSI
TFT
-
Capacitive
I2C
√
×
×
×
√
×
×
8inch DSI LCD (C)
1280×800
DSI
IPS
178°
Capacitive
I2C
√
√
×
×
√
×
×
10.1inch DSI LCD (C)
1280×800
DSI
IPS
178°
Capacitive
I2C
√
√
×
×
√
×
×
11.9inch DSI LCD
320×1480
DSI
IPS
170°
Capacitive
I2C
√
×
×
×
√
×
×
HDMI / TYPE-C DISPLAYS
PROS: high refresh rate, multiple resolution support, multiple devices support, leaves the Raspberry Pi 40PIN GPIO free, better compatibility with Raspberry Pi system.
CONS: somewhat costly.
2.8inch HDMI LCD (H)
480×640
HDMI
IPS
160°
Capacitive
USB-C / I2C
√
√
×
×
√
√
√
3.2inch HDMI LCD (H)
480×800
HDMI
IPS
160°
×
×
×
×
×
×
√
√
Display ONLY
3.5inch HDMI LCD
480×320
HDMI
IPS
160°
Resistive
SPI
×
×
×
√
√
×
Display ONLY
3.5inch 480x800 LCD
480×800
HDMI
IPS
170°
Capacitive
USB-C
×
×
×
×
√
√
√
4inch HDMI LCD
480×800
HDMI
IPS
170°
Resistive
SPI
×
×
×
×
√
×
Display ONLY
4inch HDMI LCD (C)
720×720
HDMI
IPS
170°
Capacitive
USB-C / I2C
√
√
×
√
√
√
√
4inch HDMI LCD (H)
480×800
HDMI
IPS
170°
Resistive
SPI
×
×
×
√
√
×
Display ONLY
4.3inch HDMI LCD (B)
800×480
HDMI
IPS
160°
Capacitive
USB
×
×
×
√
√
√
√
5inch HDMI LCD
800×480
HDMI
TFT
–
Resistive
SPI
×
×
×
×
√
×
×
5inch HDMI LCD (with bicolor case)
800×480
HDMI
TFT
–
Resistive
SPI
×
×
×
×
√
×
×
5inch HDMI LCD (B)
800×480
HDMI
TFT
–
Resistive
USB
×
×
×
×
√
×
√
5inch HDMI LCD (B) (with bicolor case)
800×480
HDMI
TFT
–
Resistive
USB
×
×
×
×
√
×
√
5inch HDMI LCD (G)
800×480
HDMI/VGA
TFT
–
Resistive
USB
×
×
×
√
√
×
√
5inch HDMI LCD (H)
800×480
HDMI/VGA
TFT
–
Capacitive
USB
√
×
×
√
√
√
√
5inch HDMI LCD (H) V4
800×480
HDMI
TFT
–
Capacitive
USB
√
×
×
×
√
×
√
5inch HDMI AMOLED
960×544
HDMI
AMOLED
170°
Capacitive
USB
√
√
×
√
√
√
√
5.5inch HDMI AMOLED
1080×1920
HDMI
AMOLED
170°
Capacitive
USB
√
√
×
√
√
√
√
5.5inch HDMI AMOLED (with case A)
1080×1920
HDMI
AMOLED
170°
Capacitive
USB
√
√
×
√
√
×
×
5.5inch 1440x2560 LCD
1440×2560
HDMI
IPS
170°
Capacitive
USB
√
√
×
√
√
×
√
5.5inch 1440x2560 LCD (with case A)
1440×2560
HDMI
IPS
170°
Capacitive
USB
√
√
×
√
√
×
×
6inch HDMI AMOLED
1080×2160
HDMI
AMOLED
160°
×
×
×
×
√
√
√
√
Display ONLY
7inch HDMI LCD
1024×600
HDMI
IPS
170°
Resistive
SPI
×
×
×
×
√
×
Display ONLY
7inch HDMI LCD (B)
800×480
HDMI
TFT
–
Capacitive
USB
×
×
×
×
√
×
√
7inch HDMI LCD (B) (with bicolor case)
800×480
HDMI
TFT
–
Capacitive
USB
×
×
×
×
√
×
√
7inch HDMI LCD (C)
1024×600
HDMI
IPS
170°
Capacitive
USB
×
×
×
×
√
×
√
7inch HDMI LCD (C) (with bicolor case)
1024×600
HDMI
IPS
170°
Capacitive
USB
×
×
×
×
√
×
√
7inch HDMI LCD (H)
1024×600
HDMI/VGA
IPS
170°
Capacitive
USB
×
×
×
√
√
√
√
7inch HDMI LCD (H) (with case)
1024×600
HDMI/VGA
IPS
170°
Capacitive
USB
√
×
×
√
√
√
√
7inch FHD Monitor
1080×1920
HDMI
IPS
170°
Capacitive
USB
√
√
√
√
√
√
√
7HP-CAPQLED
1024×600
HDMI
IPS (QLED)
170°
Capacitive
USB
√
×
×
√
√
√
√
7.9inch HDMI LCD
400×1280
HDMI
IPS
170°
Capacitive
USB
√
×
×
√
√
√
√
8DP-CAPLCD
1280×800
HDMI
IPS
178°
Capacitive
USB
√
√
×
√
√
√
√
8inch 1536x2048 LCD
1536×2048
HDMI
IPS
178°
Capacitive
Type-C
√
√
√
√
√
√
√
8.8inch Side Monitor
480×1920
HDMI
IPS
170°
×
×
×
×
√
×
√
√
Display ONLY
9HP-CAPQLED
1280×720
HDMI
IPS (QLED)
170°
Capacitive
USB
√
×
×
√
√
√
√
9inch 2560x1600 Monitor
2560×1600
HDMI
IPS
178°
Capacitive
USB
√
√
√
√
√
√
√
10.1inch HDMI LCD
1024×600
HDMI
IPS
170°
Resistive
SPI
×
×
×
×
√
×
Display ONLY
10.1inch HDMI LCD (B) (with case)
1280×800
HDMI
IPS
170°
Capacitive
USB
√
×
×
×
√
×
√
10.1inch HDMI LCD (E)
1024×600
HDMI
IPS
170°
Capacitive
USB
√
√
×
√
√
√
√
10.1inch HDMI LCD (G) (with case)
1920×1200
HDMI
IPS
160°
Capacitive
USB
√
√
√
√
√
√
√
10.1inch HDMI LCD (H) (with case)
1024×600
HDMI/VGA
TFT
–
Capacitive
USB
×
×
×
×
√
√
√
10.1inch HDMI LCD (F) (with case)
1024×600
HDMI/VGA
IPS
170°
Capacitive
USB
√
×
√
×
√
√
√
10.1DP-CAPLCD
1280×800
HDMI
IPS
178°
Capacitive
USB
√
√
×
√
√
√
√
10.1HP-CAPQLED
1280×720
HDMI
IPS (QLED)
170°
Capacitive
USB
√
×
×
√
√
√
√
10.5inch HDMI AMOLED
2560×1600
HDMI
AMOLED
160°
Capacitive
USB
√
√
√
√
√
√
√
11.6inch HDMI LCD (H)
1920×1080
HDMI
IPS
178°
Capacitive
USB
√
√
×
√
√
√
√
11.6inch HDMI LCD (H) (with case)
1920×1080
HDMI/VGA
IPS
178°
Capacitive
USB
√
√
√
√
√
√
√
11.9inch HDMI LCD
320×1480
HDMI
IPS
170°
Capacitive
USB
√
×
×
√
√
√
√
13.3inch HDMI LCD (H)
1920×1080
HDMI
IPS
178°
Capacitive
USB
√
×
×
√
√
√
√
13.3inch HDMI LCD (H) (with case)
1920×1080
HDMI/VGA
IPS
178°
Capacitive
USB
√
×
√
√
√
√
√
13.3inch HDMI LCD (H) (with case) V2
1920×1080
HDMI/VGA
IPS
178°
Capacitive
USB
√
×
√
√
√
√
√
15.6inch HDMI LCD
1920×1080
HDMI
IPS
178°
Capacitive
USB
√
×
×
√
√
√
√
15.6inch HDMI LCD (H) (with case)
1920×1080
HDMI/VGA
IPS
178°
Capacitive
USB
√
×
√
√
√
√
√
15.6inch FHD Monitor
1920×1080
HDMI/Type-C
IPS
178°
Capacitive
Type-C / USB
√
×
√
√
√
√
√
15.6HP-CAPQLED
1920×1080
HDMI
IPS(QLED)
178°
Capacitive
USB
√
√
×
√
√
√
√
21.5inch FHD Monitor
1080×1920
HDMI
IPS
170°
Capacitive
Type-C
√
√
√
×
√
√
√
Have a look :


Weight: 1.604 kg
Quick Overview