Description

Package Content
Details
6inch Flexible AMOLED, HDMI Port, 1080×2160 Resolution, Rounded Corners
6″ Flexible AMOLED
Size

6″

Resolution

1080×2160

Display Panel

AMOLED

Panel Feature

Flexible Panel

Viewing Angle

160°

Display Interface

HDMI

Audio Output 1

3.5mm Jack

Audio Output 2

4PIN Header
The display orientation is portrait by default, 1080×2160 resolution (H×V). Change the software config for landscape display.
Device & System Support
Raspberry Pi
Supports Raspberry Pi OS / Ubuntu / Kali / WIN10 IoT / Retropie, driver free
Supports all versions of Raspberry Pi
Jetson Nano
Supports Ubuntu
PC
Supports Windows 11 / 10 / 8.1 / 8 / 7
Connection Examples
Working with Raspberry Pi 4
Working with Raspberry Pi 3B+
Working with AI Computer Jetson Nano
Working with mini PC
rendering the real sight
100% Adobe RGB, 100% DCI-P3 color gamut,
rendering more colors, bringing more immersive movie experience
AMOLED active light-emitting screen
The next-generation display technology, 2.33M active light-emitting pixels
Compared to those traditional LCD displays, the AMOLED screen features precise light-control capability, representing more delicate colors, more picture details, and more vivid video image
high contrast, no detail would be lost
striking one-hundred-thousand grade contrast radio
Compared to normal LCD displays, the AMOLED screen features ultra high contrast radio, which means hundredfold light/dark performance. Even when representing gradations and details like the deep starry sky, it is able to bring you immersive experience easily.
virtually 0nit true black
brighter highlight, darker shadow
The regular LCD requires backlight and color film to work, i.e. it represents colors by controlling the white light from backlight layer to pass through the color film, and generally there's so called light-leak issue.
Unlike LCD, the AMOLED features active emissive technology, each pixel on the AMOLED will light up by itself like a firefly, or turn off completely, to create brighter highlight or true black shadow, while retaining rich details.
as thin as a cicada's wings
thinner than 1mm display, slim like a paper
Design features
Appearance and Dimensions
Resources & Services

Product Certification
HDMI Certified
Support touch screen customization
Support the following ways to customize the touch screen display in bulk order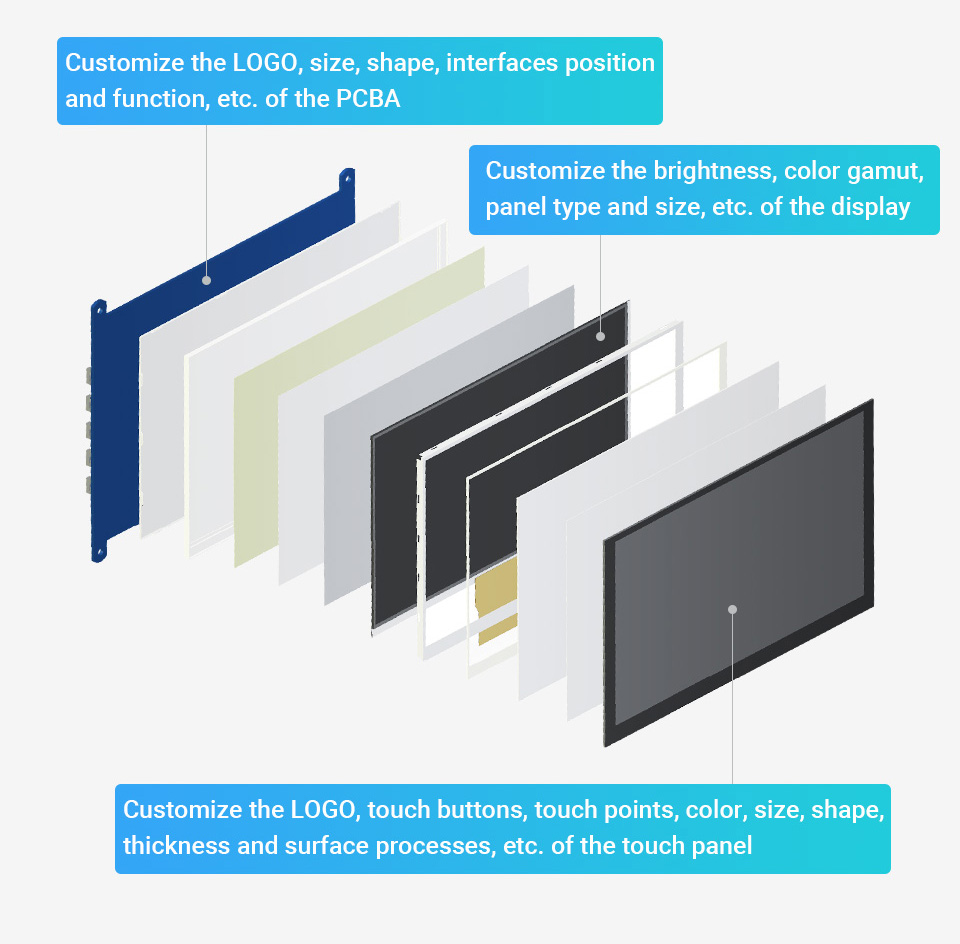 Over a decade
Waveshare grows with display
* Waveshare has been focusing on display design for over 10 years.
Selection Guide
PartNumber
Display
Touch
Audio
Device Support
Resolu-tion
Display Port
Display Panel
View Angle
Touch Type
Touch Port
Toughened Glass Panel
Optical Bonding
Spe-
aker
Signal Output
Pi
JETSON NANO
PC
SPI DISPLAYS
PROS: low price.
CONS: low refresh rate & resolution, supports Raspberry Pi only, requires Raspberry Pi 40PIN GPIO (the SPI bus), poor compatibility with Raspberry Pi system.
3.2inch RPi LCD (B)
320×240
SPI
TFT
–
Resistive
SPI
×
×
×
×
√
×
×
3.5inch RPi LCD (B)
480×320
SPI
IPS
160°
Resistive
SPI
×
×
×
×
√
×
×
3.5inch RPi LCD (C)
480×320
High-Speed SPI
TFT
–
Resistive
SPI
×
×
×
×
√
×
×
4inch RPi LCD (C)
480×320
High-Speed SPI
TFT
–
Resistive
SPI
×
×
×
×
√
×
×
DPI DISPLAYS
PROS: low price, high refresh rate, multiple resolution support, better compatibility with Raspberry Pi system.
CONS: supports Raspberry Pi only, requires Raspberry Pi 40PIN GPIO.
2.8inch DPI LCD
480×640
DPI
IPS
160°
Capacitive
I2C
√
√
×
×
√
×
×
3.5inch DPI LCD
640×480
DPI
IPS
170°
Capacitive
I2C
√
×
×
×
√
×
×
4inch DPI LCD (B)
480×800
DPI
IPS
170°
Capacitive
I2C
√
×
√
√
√
×
×
4inch DPI LCD (C)
720×720
DPI
IPS
170°
Capacitive
I2C
√
√
×
×
√
×
×
5inch DPI LCD
800×480
DPI
IPS
160°
×
×
×
×
×
×
√
×
×
7inch DPI LCD
1024×600
DPI
IPS
170°
×
×
×
×
×
×
√
×
×
DSI DISPLAYS
PROS: moderate price, high refresh rate, leaves the Raspberry Pi 40PIN GPIO free, better compatibility with Raspberry Pi system.
CONS: supports Raspberry Pi only.
2.8inch DSI LCD
480×640
DSI
IPS
160°
Capacitive
I2C
√
√
×
×
√
×
×
3.4inch DSI LCD (C)
800×800
DSI
IPS
170°
Capacitive
I2C
√
√
×
×
√
×
×
4inch DSI LCD
480×800
DSI
IPS
170°
Capacitive
I2C
√
×
×
×
√
×
×
4inch DSI LCD (C)
720×720
DSI
IPS
170°
Capacitive
I2C
√
√
×
×
√
×
×
4.3inch DSI LCD
800×480
DSI
IPS
160°
Capacitive
I2C
√
×
×
×
√
×
×
4.3inch DSI LCD (with case)
800×480
DSI
IPS
160°
Capacitive
I2C
√
×
×
×
√
×
×
4.3inch DSI QLED
800×480
DSI
IPS(QLED)
160°
Capacitive
I2C
√
×
×
×
√
×
×
5inch DSI LCD
800×480
DSI
TFT
-
Capacitive
I2C
√
×
×
×
√
×
×
5inch DSI LCD (B)
800×480
DSI
IPS
160°
Capacitive
I2C
√
×
×
×
√
×
×
7inch DSI LCD
800×480
DSI
TFT
-
Capacitive
I2C
√
×
×
×
√
×
×
7inch DSI LCD (with case A)
800×480
DSI
TFT
-
Capacitive
I2C
√
×
×
×
√
×
×
7inch DSI LCD (with cam)
800×480
DSI
TFT
-
Capacitive
I2C
√
×
×
×
√
×
×
7inch DSI LCD (with cam and case)
800×480
DSI
TFT
-
Capacitive
I2C
√
×
×
×
√
×
×
7inch DSI LCD (B)
800×480
DSI
IPS
170°
Capacitive
I2C
√
×
×
×
√
×
×
7inch DSI LCD (B) (with case A)
800×480
DSI
IPS
170°
Capacitive
I2C
√
×
×
×
√
×
×
7inch DSI LCD (C)
1024×600
DSI
IPS
170°
Capacitive
I2C
√
×
×
×
√
×
×
7inch DSI LCD (C) (with case A)
1024×600
DSI
IPS
170°
Capacitive
I2C
√
×
×
×
√
×
×
7.9inch DSI LCD
400×1280
DSI
IPS
170°
Capacitive
I2C
√
×
×
×
√
×
×
8inch DSI LCD
800×480
DSI
TFT
-
Capacitive
I2C
√
×
×
×
√
×
×
8inch DSI LCD (with cam)
800×480
DSI
TFT
-
Capacitive
I2C
√
×
×
×
√
×
×
8inch DSI LCD (C)
1280×800
DSI
IPS
178°
Capacitive
I2C
√
√
×
×
√
×
×
10.1inch DSI LCD (C)
1280×800
DSI
IPS
178°
Capacitive
I2C
√
√
×
×
√
×
×
11.9inch DSI LCD
320×1480
DSI
IPS
170°
Capacitive
I2C
√
×
×
×
√
×
×
HDMI / TYPE-C DISPLAYS
PROS: high refresh rate, multiple resolution support, multiple devices support, leaves the Raspberry Pi 40PIN GPIO free, better compatibility with Raspberry Pi system.
CONS: somewhat costly.
2.8inch HDMI LCD (H)
480×640
HDMI
IPS
160°
Capacitive
USB-C / I2C
√
√
×
×
√
√
√
3.2inch HDMI LCD (H)
480×800
HDMI
IPS
160°
×
×
×
×
×
×
√
√
Display ONLY
3.5inch HDMI LCD
480×320
HDMI
IPS
160°
Resistive
SPI
×
×
×
√
√
×
Display ONLY
3.5inch 480x800 LCD
480×800
HDMI
IPS
170°
Capacitive
USB-C
×
×
×
×
√
√
√
4inch HDMI LCD
480×800
HDMI
IPS
170°
Resistive
SPI
×
×
×
×
√
×
Display ONLY
4inch HDMI LCD (C)
720×720
HDMI
IPS
170°
Capacitive
USB-C / I2C
√
√
×
√
√
√
√
4inch HDMI LCD (H)
480×800
HDMI
IPS
170°
Resistive
SPI
×
×
×
√
√
×
Display ONLY
4.3inch HDMI LCD (B)
800×480
HDMI
IPS
160°
Capacitive
USB
×
×
×
√
√
√
√
5inch HDMI LCD
800×480
HDMI
TFT
–
Resistive
SPI
×
×
×
×
√
×
×
5inch HDMI LCD (with bicolor case)
800×480
HDMI
TFT
–
Resistive
SPI
×
×
×
×
√
×
×
5inch HDMI LCD (B)
800×480
HDMI
TFT
–
Resistive
USB
×
×
×
×
√
×
√
5inch HDMI LCD (B) (with bicolor case)
800×480
HDMI
TFT
–
Resistive
USB
×
×
×
×
√
×
√
5inch HDMI LCD (G)
800×480
HDMI/VGA
TFT
–
Resistive
USB
×
×
×
√
√
×
√
5inch HDMI LCD (H)
800×480
HDMI/VGA
TFT
–
Capacitive
USB
√
×
×
√
√
√
√
5inch HDMI LCD (H) V4
800×480
HDMI
TFT
–
Capacitive
USB
√
×
×
×
√
×
√
5inch HDMI AMOLED
960×544
HDMI
AMOLED
170°
Capacitive
USB
√
√
×
√
√
√
√
5inch 1080x1080 LCD
1080×1080
HDMI
IPS
160°
Capacitive
Type-C
√
√
√
√
√
√
√
5.5inch HDMI AMOLED
1080×1920
HDMI
AMOLED
170°
Capacitive
USB
√
√
×
√
√
√
√
5.5inch HDMI AMOLED (with case A)
1080×1920
HDMI
AMOLED
170°
Capacitive
USB
√
√
×
√
√
×
×
5.5inch 1440x2560 LCD
1440×2560
HDMI
IPS
170°
Capacitive
USB
√
√
×
√
√
×
√
5.5inch 1440x2560 LCD (with case A)
1440×2560
HDMI
IPS
170°
Capacitive
USB
√
√
×
√
√
×
×
6inch HDMI AMOLED
1080×2160
HDMI
AMOLED
160°
×
×
×
×
√
√
√
√
Display ONLY
7inch HDMI LCD
1024×600
HDMI
IPS
170°
Resistive
SPI
×
×
×
×
√
×
Display ONLY
7inch HDMI LCD (B)
800×480
HDMI
TFT
–
Capacitive
USB
×
×
×
×
√
×
√
7inch HDMI LCD (B) (with bicolor case)
800×480
HDMI
TFT
–
Capacitive
USB
×
×
×
×
√
×
√
7inch HDMI LCD (C)
1024×600
HDMI
IPS
170°
Capacitive
USB
×
×
×
×
√
×
√
7inch HDMI LCD (C) (with bicolor case)
1024×600
HDMI
IPS
170°
Capacitive
USB
×
×
×
×
√
×
√
7inch HDMI LCD (H)
1024×600
HDMI/VGA
IPS
170°
Capacitive
USB
×
×
×
√
√
√
√
7inch HDMI LCD (H) (with case)
1024×600
HDMI/VGA
IPS
170°
Capacitive
USB
√
×
×
√
√
√
√
7HP-CAPQLED
1024×600
HDMI
IPS (QLED)
170°
Capacitive
USB
√
×
×
√
√
√
√
7.9inch HDMI LCD
400×1280
HDMI
IPS
170°
Capacitive
USB
√
×
×
√
√
√
√
7.9inch Side Monitor
400×1280
HDMI
IPS
170°
×
×
√
×
√
×
√
√
√
7.9inch Touch Monitor
400×1280
HDMI
IPS
170°
Capacitive
USB
√
×
√
×
√
√
√
8DP-CAPLCD
1280×800
HDMI
IPS
178°
Capacitive
USB
√
√
×
√
√
√
√
8HP-CAPLCD Monitor
1280×800
HDMI/Type-C
IPS
178°
Capacitive
USB
√
√
√
√
√
√
√
8inch 1536x2048 LCD
1536×2048
HDMI
IPS
178°
Capacitive
Type-C
√
√
√
√
√
√
√
8.8inch Side Monitor
480×1920
HDMI
IPS
170°
×
×
×
×
√
×
√
√
Display ONLY
9HP-CAPQLED-B
1280×720
HDMI
IPS (QLED)
178°
Capacitive
USB
√
×
×
√
√
√
√
9.3inch 1600x600 LCD
1600×600
HDMI
IPS
178°
Capacitive
Type-C
√
√
√
√
√
√
√
10.1inch HDMI LCD
1024×600
HDMI
IPS
170°
Resistive
SPI
×
×
×
×
√
×
Display ONLY
10.1inch HDMI LCD (B) (with case)
1280×800
HDMI
IPS
170°
Capacitive
USB
√
×
×
×
√
×
√
10.1inch HDMI LCD (E)
1024×600
HDMI
IPS
170°
Capacitive
USB
√
√
×
√
√
√
√
10.1inch HDMI LCD (G) (with case)
1920×1200
HDMI
IPS
160°
Capacitive
USB
√
√
√
√
√
√
√
10.1inch HDMI LCD (H) (with case)
1024×600
HDMI/VGA
TFT
–
Capacitive
USB
×
×
×
×
√
√
√
10.1inch HDMI LCD (F) (with case)
1024×600
HDMI/VGA
IPS
170°
Capacitive
USB
√
×
√
×
√
√
√
10.1DP-CAPLCD
1280×800
HDMI
IPS
178°
Capacitive
USB
√
√
×
√
√
√
√
10.1HP-CAPQLED
1280×720
HDMI
IPS (QLED)
170°
Capacitive
USB
√
×
×
√
√
√
√
10.1HP-CAPLCD Monitor
1280×800
HDMI/Type-C
IPS
178°
Capacitive
USB
√
√
√
√
√
√
√
10.4HP-CAPQLED
1600×720
HDMI
IPS(QLED)
178°
Capacitive
Type-C
√
√
√
√
√
√
√
10.5inch HDMI AMOLED
2560×1600
HDMI
AMOLED
160°
Capacitive
USB
√
√
√
√
√
√
√
11.6inch HDMI LCD (H)
1920×1080
HDMI
IPS
178°
Capacitive
USB
√
√
×
√
√
√
√
11.6inch HDMI LCD (H) (with case)
1920×1080
HDMI/VGA
IPS
178°
Capacitive
USB
√
√
√
√
√
√
√
11.9inch HDMI LCD
320×1480
HDMI
IPS
170°
Capacitive
USB
√
×
×
√
√
√
√
11.9inch Side Monitor
320×1480
HDMI
IPS
170°
×
×
√
×
√
×
√
√
√
11.9inch Touch Monitor
320×1480
HDMI
IPS
170°
Capacitive
USB
√
×
√
×
√
√
√
13.3inch HDMI LCD (H)
1920×1080
HDMI
IPS
178°
Capacitive
USB
√
×
×
√
√
√
√
13.3inch HDMI LCD (H) (with case)
1920×1080
HDMI/VGA
IPS
178°
Capacitive
USB
√
×
√
√
√
√
√
13.3inch HDMI LCD (H) (with case) V2
1920×1080
HDMI/VGA
IPS
178°
Capacitive
USB
√
×
√
√
√
√
√
13.3inch QHD AMOLED
2560×1440
HDMI/Type-C
AMOLED
178°
Capacitive
Type-C
√
√
√
√
√
√
√
15.6inch HDMI LCD
1920×1080
HDMI
IPS
178°
Capacitive
USB
√
×
×
√
√
√
√
15.6inch HDMI LCD (H) (with case)
1920×1080
HDMI/VGA
IPS
178°
Capacitive
USB
√
×
√
√
√
√
√
15.6inch FHD Monitor
1920×1080
HDMI/Type-C
IPS
178°
Capacitive
Type-C / USB
√
×
√
√
√
√
√
15.6HP-CAPQLED
1920×1080
HDMI
IPS(QLED)
178°
Capacitive
USB
√
√
×
√
√
√
√
15.6inch QLED Monitor
1920×1080
HDMI
IPS(QLED)
178°
Capacitive
Type-C
√
√
√
√
√
√
√
21.5inch FHD Monitor
1080×1920
HDMI
IPS
170°
Capacitive
Type-C
√
√
√
×
√
√
√
Have a look :


Weight: 0.159 kg
Quick Overview
6inch HDMI AMOLED x1
Speaker x1
HDMI flat cable ~1m x1
USB-A to USB-C cable ~1m x1
HDMI Adapter (C) x1
HDMI Adapter (B) x1
Screws pack x1
1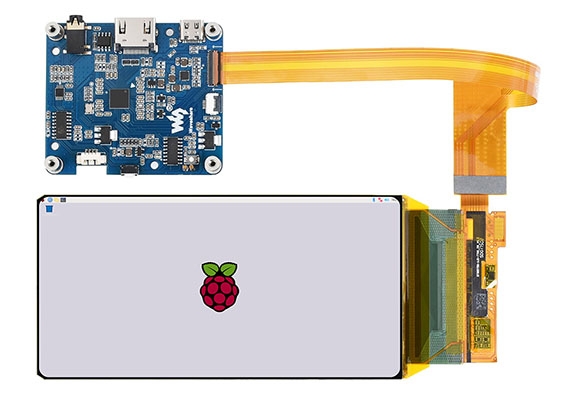 2
3

4

5

6

7