Description

Package Content
Details
STLINK-V3MINIE, In-Circuit Debugger And Programmer For STM32
STLINK-V3MINIE
STM32 Debugger/Programmer
Based on Arm Cortex-M STM32 32-bit Microcontroller
The STLINK-V3MINIE is a stand-alone debugging and programming tiny probe for STM32 microcontrollers, portable and easy-to-use. Onboard JTAG/SWD interfaces for communicating with STM32 microcontroller, also provides a virtual COM port for the host PC to communicate with the target microcontroller through one UART.
Features at a glance
Tiny 15 mm × 42 mm stand-alone debugging and programming probe for STM32 microcontrollers
Self-powered through a USB Type-C connector
USB 2.0 high-speed interface
Probe firmware is updatable through USB
Support drag-and-drop Flash programming of binary files
Two color LEDs: communication, power
JTAG communication support up to 21 MHz
SWD (Serial Wire Debug) and SWV (Serial Wire Viewer) communication support up to 24 MHz
Virtual COM port (VCP) up to 15 Mbps
1.65 to 3.60 V application voltage support
Interface introduction
Software Support
Hardware Support
Support All STM32 series MCUs with JTAG / SWD interfaces
for reference only, STM32 MCU is not included.
STLINK Series Selection Guide
Item
V3MINIE
V3SET
V2
JTAG/SWD application voltage
1.65V~3.6V①
3V~3.6V
1.65V~3.6V①
SWIM application voltage
N/A
1.65V~5.5V
1.65V~5.5V
SWV support
YES②
Debug interface
multi
multi③
2
LED Indicator
two colors④
① ST-LINK/V2 and STLINK-V3MINIE support STM32 low-power devices.
② Only available for STM32 at present.
③ STLINK-V3SET features GPIO port besides the programming port.
④ Two colors LED indicates both power and communication.
Connection Example
What's On Board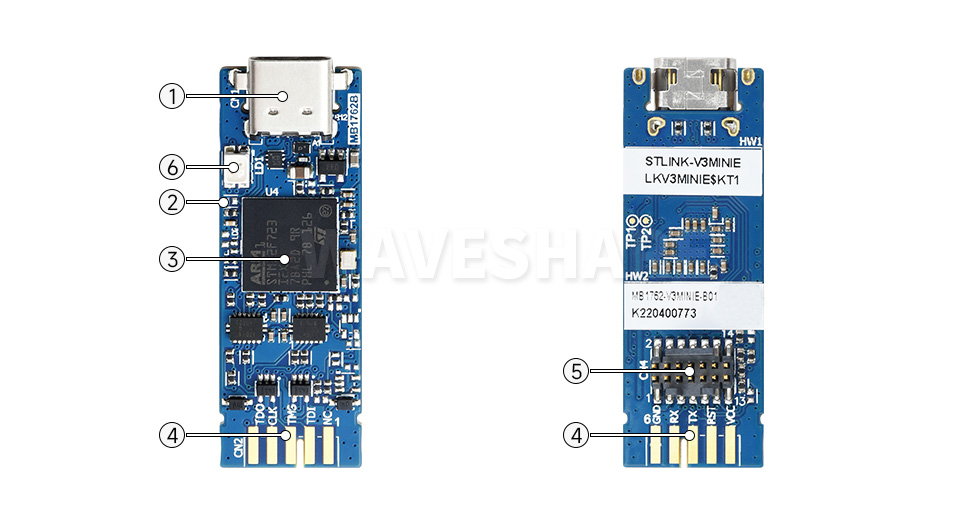 USB Type-C connector
Power LED indicator pad (LED is not soldered here)
STM32F723 MCU
BTB (board-to-board) card edge connector pads
STDC14 debug connector
COM LED Indicator
The LED is blinking red: the first USB enumeration with the PC is taking place.
The LED is red: the communication between the PC and STLINK-V3MINIE is established.(end of enumeration).
The LED is blinking green/red: data are being exchanged between the target and the PC.
Outline dimensions
Resources & Services

Weight: 0.058 kg
Quick Overview