Description

Package Content
Details
High-Reliability 180° copper gear digital servo, 2.3kg.cm Large torque, Compact Size & Lightweight
2.3kg.cm High-Reliability
180° copper gear digital servo
Large torque | Compact Size | Lightweight
Specifications
| | |
| --- | --- |
| Product type | WP90 Servo PWM digital servo |
| Torque | 2.3kg.cm @ 6V |
| Rotation angle | 180° (500 → 2500μsec) |
| Mechanical limited angle | No limit |
| Operating voltage | 3~8.4V |
| Gear | copper gear |
| idling speed | 0.1sec/60°(100RPM)@6V |
| ENCODER TYPE | Carbon film potentiometer |
| NO-LOAD CURRENT | 150mA@6V |
| LOCKED-ROTOR CURRENT | 1A@6V |
| Kt | 2.3kg.cm/A |
Application examples
The servo can be used in scenarios or products with limited space.
Ideal choice for building quadruped robots, hexapod walkers, robotic arms and other robotic projects requiring multiple servos
* for reference only, please refer to the part list for detailed package content.
Allows Controlling Up To 16 Servos At The Same Time via Raspberry Pi Servo HAT
* for reference only, the Raspberry Pi and Servo Driver HAT are NOT included.
Lightweight & high strength structural
design
The WP90 adopts a tough, durable, and rigid ABS case, ensures structural strength while reducing its own weight, allows more flexible use in weight-sensitive scenarios
High-reliability gear reduction group for Longer Lifetime
Adopts high-precision and high-strength metal reduction gears to ensure smooth movement, features excellent reliability. The gear group can provide superior performance and long service life for the device in various environments.
Comes with multiple servo arms
More flexible assembly methods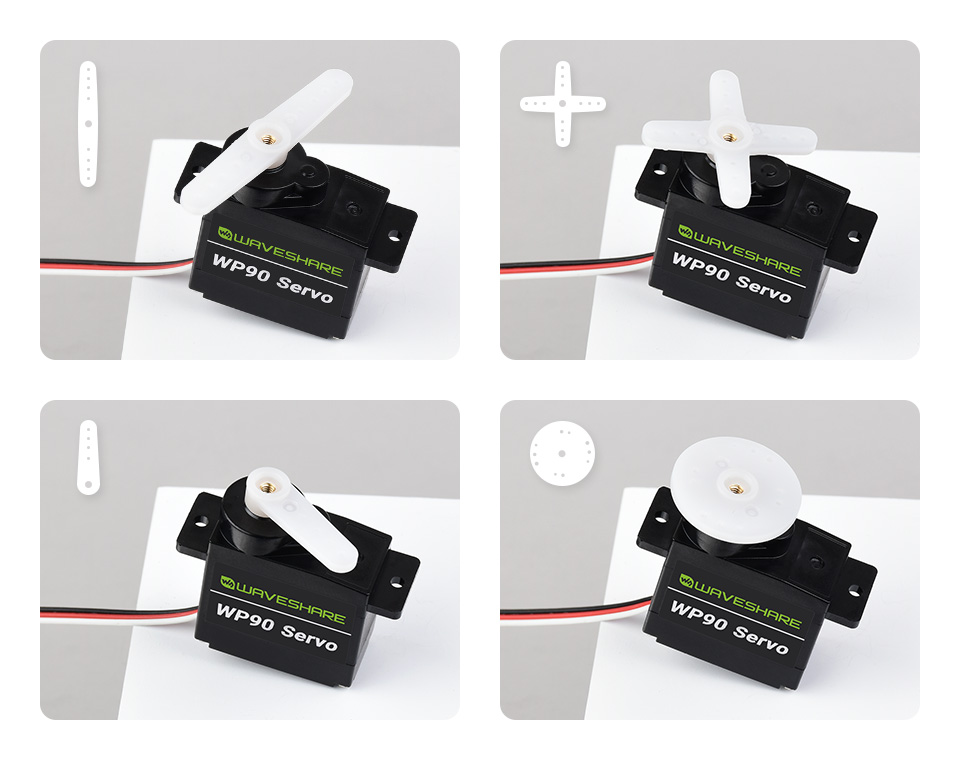 Product show
Outline dimensions
Resources & Services

Product Selection
| Product | Voltage | Control Method | Precision | NO-LOAD SPEED | Continuous Rotation | LOCKED-ROTOR TORQUE | LOCKED-ROTOR CURRENT | Range | Feedback |
| --- | --- | --- | --- | --- | --- | --- | --- | --- | --- |
| WP90 | 4.8 ~ 7.4 | PWM | ≤2° | 0.1sec/60° | - | 2.3kg.cm | 1.0A | 180° | - |
| SC09 | 4.8 ~ 8.4 | TTL | 300°/1024 | 0.1sec/60° | √ | 2.3kg.cm | 1.0A | 300° | √ |
| SC15 | 4.8 ~ 8.4 | TTL | 180° / 1024 | 0.16 sec / 60° | √ | 15kg.cm | 1.5A | 180° | √ |
| ST3020 | 6 ~ 14.0 | TTL | 360° / 4096 | 0.167sec / 60° | √ | 25kg.cm | 2.7A | 360° | √ |
| ST3215 | 6 ~ 12.6 | TTL | 360° / 4096 | 0.222 sec / 60° | √ | 30kg.cm | 2.7A | 360° | √ |
| ST3025 | 6 ~ 12.6 | TTL | 360° / 4096 | 0.117sec / 60° | √ | 40kg.cm | 4.4A | 360° | √ |
Weight: 0.016 kg
Quick Overview
WP90 Servo x1