Description

Package Content
Details
Prohibited by the module manufacturer QUECTEL, we're not allowed to ship this product, or to provide any tech support, to the following countries/regions: Iran, North Korea, Cuba, Sudan, Syrian.
RM520N-GL 5G HAT for Raspberry Pi with Case, Quad Antennas LTE-A, Global Band, GNSS Positioning, Support 3GPP 16, 4G/3G
Raspberry Pi RM520N-GL 5G HAT
Supports 5G/4G/3G communication and GNSS positioning, Global Band
Based on Quectel RM520N-GL 5G module, supports 3GPP 16
* for reference only, Raspberry Pi board is NOT included
Features at a glance
Comes with the Quectel RM520N-GL 5G Sub-6GHz module, supports various network standards such as 5G/4G/3G and LTE-A, GNSS positioning support
Comes with M.2 TO 4G/5G HAT, compatible with the RM500U-CN/RM500Q-GL/RM502Q-AE/RM520N-GL series 5G modules
USB 3.1 port (USB 2.0 compatible) for connecting to PC, Raspberry Pi, or Jetson Nano to enable high speed 5G network
Standard M.2 B KEY slot, compatible with SIM7600X/EM06X/SIM82XX/RM5XX series 4G/5G M.2 modules
Onboard control pins, built-in voltage level translator, enabled via DIP switch, for use with hosts like Raspberry Pi or Arduino
Onboard USB-C connector, enabled via switch, for connecting standalone power supply for the module, allows more loads, stable and flexible power supply
Onboard power supply switch, reset button and LED indicator, easy to turn on/off the module and monitor the operating status
2x SIM card slot, dual card single standby, switchable via AT command
High efficiency power supply circuit, up to 3A output current
Comes with metal case, supports wall and rail mounting, more convenient for installation
Quectel RM520N-GL 5G Global Band module
supports 3GPP 5G Release 16 Specification, M.2 form factor
Supports 5G/4G/3G networking,
Global Band
Support 5G NSA (4G and 5G co-networking) and SA (5G standalone networking)
Support 4G/3G network
* the frequency band diagram above is for reference only, please confirm the supported bands according to your local service provider.
Multi-constellation high-precision GNSS
supports GPS, Beidou, Glonass, Galileo, QZSS
Comes with M.2 TO 4G/5G HAT
Compatible with RM500U-CN/RM500Q-GL/RM502Q-AE/RM520N-GL series 5G modules, supports direct access to Raspberry Pi 4B/3B+ and CM4-IO-BASE-A/B baseboards, etc
Connecting with Raspberry Pi 4B
Connecting with Raspberry Pi 3B+
Connecting with CM4 baseboard
What's On Board
Raspberry Pi GPIO header
for connecting with Raspberry Pi
DIP switches
Enables the power control and reset pins
M.2 slot
Compatible with most SIMCom and QUECTEL 4G/5G modules in M.2 form factor
SIM card slot 1
one of the 2x SIM card slots, dual card single standby
USB3.1 port
USB 2.0 compatible, for connecting with different hosts
USB Type-C port
5V 3A input, stable and flexible power supply
Audio jack
SIM7600X/SIM8XXX series supports audio function, but RM5XX/EM06XX series temporarily does not support this function
Antenna connector
Supports quad antennas
Reset button
Power supply switch
Switch the power supply mode:
When set to USB, the module is powered via the "5. USB3.1 port"
When set to EXT PWR, the module is powered by the external power supply via the "6. USB Type-C port"
Indicator
Easy to monitor the operating status of module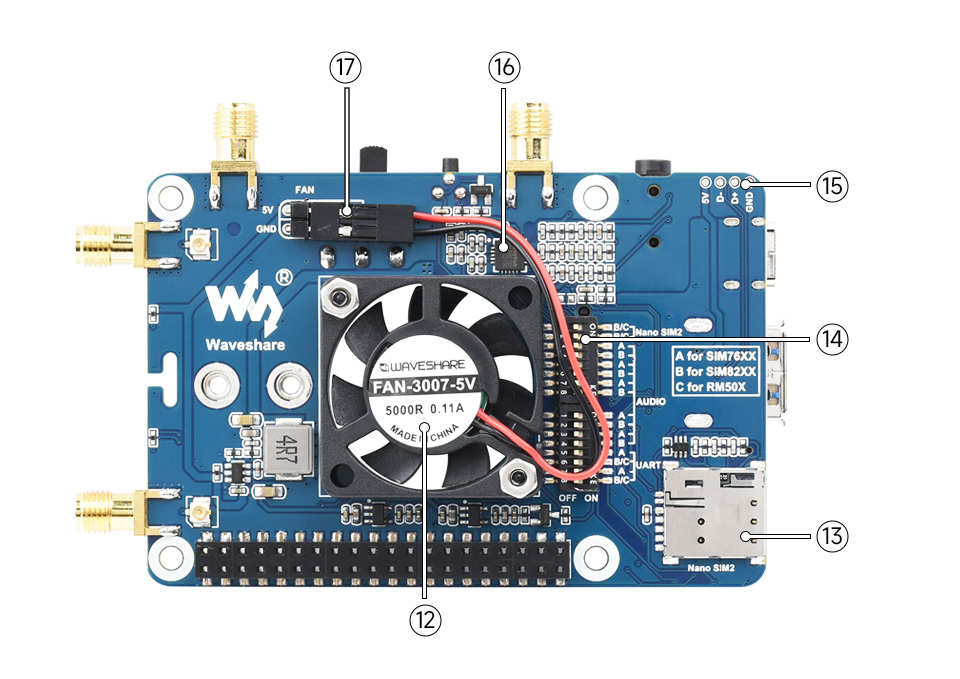 Cooling fan
Better heat dissipation for both Raspberry Pi and the 5G module
SIM card slot 2
Switchable via AT command
Module settings switch
Switch A to ON for SIM7600X/A7906X/SIM7906X/SIM7912X series 4G M.2 modules;
Switch B to ON for SIM8202X/SIM8200EA/SIM8262X series 5G M.2 modules;
Switch C to ON for RM50X/RM520N-GL/EM06X series 5G/LTE-A M.2 modules
USB 2.0 interface pads
NAU8810X Audio Chip
For SIM7600X/SIM8XXX series modules, RM5XX and EM06XX series modules temporarily does not support this function
Fan Header
5V cooling fan power supply
Multi system support, easy to use
Supports Windows 7/8/10/11, Ubuntu, Raspberry Pi OS, OpenWRT...Just plug it into USB port, go through some simple configuration, the high speed 5G network connection will be ready to use
Connecting to Raspberry Pi
Metal case, rugged and nice-looking,
easy to install
Supports Wall And Rail Mounting, Convenient for Various Application Scenarios
Such As Industry
Note: The case is only suitable for Raspberry Pi 4B
Application examples
5G Wireless Router
Combined with OpenWrt, turns the Raspberry Pi into a 5G wireless router, providing WiFi hotspot for smartphones to easily access the 5G Network.
5G Live Streaming
While mounting an additional camera, it is able to do live streaming on webpage or live platform through ffmpeg video stream.
More Possibilities
Outline Dimensions
Resources & Services

Specifications
5G Sub-6
RM500U-CN
RM500Q-GL
RM502Q-AE
RM520N-GL
RM530N-GL
5G Standard
3GPP R15
3GPP R16
5G
Sub-6 GHz
Sub-6G & mmWave
Region / Provider
China
Global (except US)
Global (except China)
Global
Operating temperature
-30 °C ~ +75 °C
Extension temperature
-40 °C ~ +85 °C
Dimensions
30.0 × 52.0 × 2.3 (mm)
Weight
8.9 (g)
8.7 (g)
8.8 (g)
Power supply
3.3~4.4 V, typical 3.7 V
3.135~4.4 V, typical 3.7 V
Power consumption
90 μA @ shutdown
3.7 mA @ hibernate
TBD @ USB 2.0, idle
TBD @ USB 3.0, idle
70 μA @ shutdown
4.0 mA @ hibernate
32 mA @ USB 2.0, idle
54 mA @ USB 3.0, idle
80 μA @ shutdown
4.2 mA @ hibernate
39 mA @ USB 2.0, idle
54.5 mA @ USB 3.0, idle
195 μA @ shutdown
4.7 mA @ hibernate
41 mA @ USB 2.0, idle
60 mA @ USB 3.0, idle
173 μA @ shutdown
5.1 mA @ hibernate
51 mA @ USB 2.0, idle
69 mA @ USB 3.0, idle
Frequency band
5G
5G NR
-
n257, n258, n260, n261
5G NR NSA
n41, n78, n79
n41, n77, n78, n79
n1, n2, n3, n5, n7, n8, n12, n20, n25, n28, n38, n40, n41, n48, n66, n71, n77, n78, n79
n1, n2, n3, n5, n7, n8, n12, n13, n14, n18, n20, n25, n26, n28, n29, n30, n38, n40, n41, n48, n66, n70, n71, n75, n76, n77, n78, n79
5G NR SA
n1, n28, n41, n77, n78, n79
n1, n2, n3, n5, n7, n8, n12, n20, n25, n28, n38, n40, n41, n48*, n66, n71, n77, n78, n79
n1, n2, n3, n5, n7, n8, n12, n13, n14, n18, n20, n25, n26, n28, n29, n30, n38, n40, n41, n48, n66, n70, n71, n75, n76, n77, n78, n79
LTE
LTE-FDD
B1, B2, B3, B5, B7, B8, B20, B28
B1, B2, B3, B4, B5, B7, B8, B12(B17), B13, B14, B18, B19, B20, B25, B26, B28, B29, B30, B32, B66, B71
LTE-TDD
B34, B38, B39, B40, B41
B34, B38, B39, B40, B41, B42, B43, B48
LAA
-
B46
UMTS
WCDMA
B1, B2, B5, B8
B1, B2, B3, B4, B5, B6, B8, B19
B1, B2, B4, B5, B8, B19
GNSS
-
GPS / GLONASS / BeiDou (Compass) / Galileo / QZSS (only supported by RM520N-GL and RM530N-GL)
Data rate
5G mmWave
-
downlink 4 Gbps;
uplink 1.4 Gbps
5G SA Sub-6
downlink 2 Gbps;
uplink 1 Gbps
downlink 2.1 Gbps;
uplink 900 Mbps
downlink 4.2 Gbps;
uplink 450 Mbps
downlink 2.4 Gbps;
uplink 900 Mbps
5G NSA Sub-6
downlink 2.2 Gbps;
uplink 575 Mbps
downlink 2.5 Gbps;
uplink 600/650 Mbps
downlink 5 Gbps;
uplink 650 Mbps
downlink 3.4 Gbps;
uplink 550 Mbps
LTE
downlink 600 Mbps;
uplink 150 Mbps
downlink 1.0 Gbps;
uplink 200 Mbps
downlink 2 Gbps;
uplink 200 Mbps
downlink 1.6 Gbps;
uplink 200 Mbps
UMTS
downlink 42.2 Mbps;
uplink 11 Mbps
downlink 42 Mbps;
uplink 5.76 Mbps
Quick Overview
Protection case kit x1
M.2 TO 4G/5G HAT x1
RM520N-GL x1
Antenna 4pcs x1
IPEX adapter cable 4pcs x1
GNSS antenna x1
2*20PIN pin header x1

OPTIONS

5V 3A Type-C power adapter x1
Dual plug USB3.0 cable x1
USB3.0 adapter x1
USB2.0 adapter x1
SMA protective cap 4pcs x1
Screws pack x1