Description

Package Content
Details
High-torque Serial Bus Servo, Desktop Robotic Arm Kit, Based On ESP32, 4-DOF, Supports Flexible Expansion And Secondary Development, Wireless Control
RoArm-M2-S
4-DOF High-Torque Serial Bus Servo Robotic Arm
Supports flexible expansion and secondary development
Features at a glance
RoArm-M2-S is a 4DOF smart robotic arm designed for innovative applications. Adopts lightweight structure design with a total weight of less than 850g and the effective payload of [email protected], it can be flexibly mounted on various mobile platforms. Adopts a 360°omnidirectional base combined with three flexible joints to create an workspace with a 1-meter diameter.
The joint direct-drive design enhances repositioning precision and also improves structural reliability, with innovative dual-drive technology doubles the shoulder joint torque. Onboard ESP32 MCU main control module supports multiple wireless control modes, provides control interfaces and rich communication protocols for easily connecting to various devices.
Provides a user-friendly and cross-platform WEB application that integrates a simple and visualized coordinate control mode, making it easier to get started. Comes with rich graphic and video tutorials to help you learn and use it quickly. Compatible with ROS2 and various host computers, supports various wireless and wired communication modes. Comes with an expansion plate, supports customizing the EoAT (End of Arm Tooling) to meet innovative application requirements.
RoArm-M2-S achieves an excellent balance between lightweight, user-friendliness, expandability, and open innovation, it is a multifunctional robotic arm that integrates intelligent control, human-machine interaction, and customizable development. Ideal for applications that require a combination of flexibility, expandability, and user-friendliness.
Multiple EoAT mounting methods
The EoAT supports various mounting methods, can be used as a clamp or as the fourth degree of freedom. Provides Open-source DXF and 3D models for DIY and secondary development
Flexible joints × omnidirectional space
Adopts 360° rotation base and flexible joints to create an omnidirectional operating space with a 1-meter diameter, allowing the EoAT to move freely in all directions
Easy to control via
Cross-platform Web Application
No App installation required, access after entering the address. Allows users to connect and control RoArm-M2-S via mobile phones, tablets and computers by clicking the buttons on the Web App. Supports secondary development of this open-source Web App to customize the user interface and add new functions.
Completely open source for
secondary development
Completely open source for the control codes and communication interface documents of Roarm-M2-S, supports multiple languages and devices for secondary development. Provides modularized demos and tutorials for zero-based users, easy to get started.
Lightweight body, excellent load capacity
lightweight body with a total weight of less than 850g, adopts carbon fiber
and 5052 aluminum alloy to ensure stability under heavy loads,
suitable for various mobile robot chassis
joint Direct-drive design
The Feedback precision up to 0.088°
The joint angle feedback can be obtained directly via a 12-bit high-precision magnetic encoder without any reduction groups, which is more accurate, and the actual position of the current target point can be calculated based on the joint angle feedback.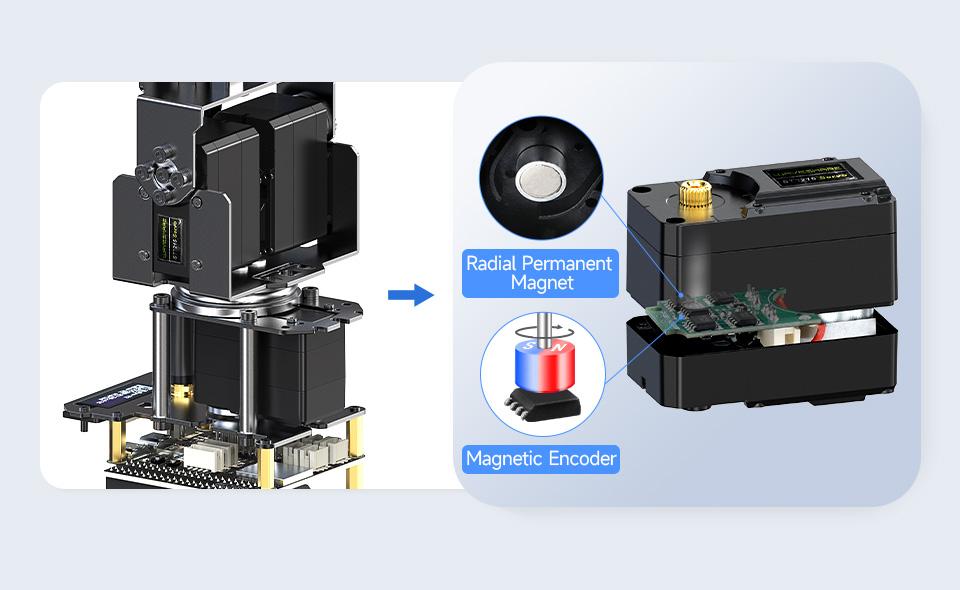 Innovative dual-drive technology
doubles the shoulder joint torque
We have developed a dual-drive control algorithm that allows the two servos at the shoulder joint to coordinate their output torque effectively, significantly enhancing
the power and the overall load capacity of RoArm-M2-S
Direct-drive clamp enables precise
force control
The direct-drive clamp design allows precise control of the clamp force in the program, suitable for clamping delicate objects without applying excessive force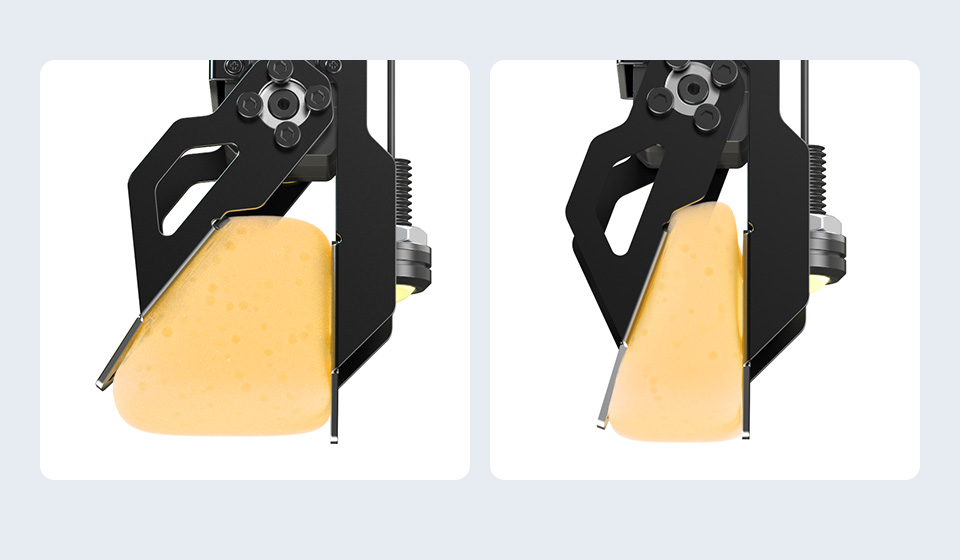 Supports installing rubber bands
to compensate for the influence
of gravity
The SHOULDER and ELBOW joints support installing the rubber bands to assist the robotic arm, by utilizing the elastic contraction of rubber bands to compensate for the influence of gravity and increase the effective load of the robotic arm.
Dynamic external force
adaptive control
After enabling this function, you can limit the maximum torque for each joint. When the external force applied to the joint exceeds the torque threshold (configurable), the robotic arm will rotate in response to the external force, and will return to the specified position when the external force decreases below the torque threshold.
One-click automatic recording
Easy to create actions
RoArm-M2-S can save JSON instructions for robot control as task files. The task files can be saved in the Flash of ESP32, which will not be lost in case of power loss. The robotic arm can perform complex and repetitive operations by calling these task files.
Accurately reach the target by entering the coordinates
Open source for inverse kinematics control algorithm in the three-dimensional Cartesian coordinate system. After entering the target position, the robot arm can accurately reach the target point by using the inverse kinematics function to calculate the rotation angle of each joint.
Curve Velocity Control for
Smoother movement
We use the curve velocity control algorithm to make the robotic arm move smoother and more naturally, without oscillations during start and stop
ESP-NOW wireless control
Low-delay remote collaboration
ESP-NOW is a low-delay ad hoc wireless communication protocol, without the need of Network infrastructures. You can use one robotic arm to wirelessly control other robotic arms, and the control methods can be set as broadcast control, group control, and one-to-one control.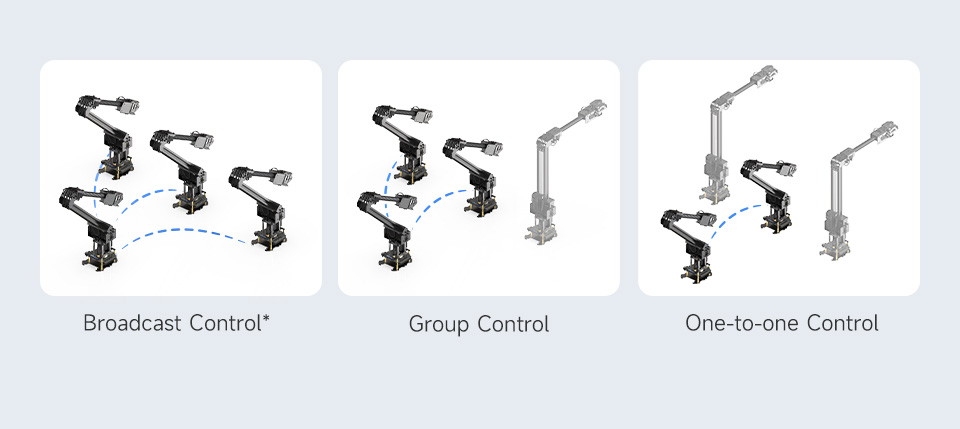 * Note: The broadcast control has no limitation for the number of controlled devices, while the group control allows up to 20 devices. Please refer to the WIKI for more details.
Supports Leading-following control mode based on ESP-NOW
In the Leading-following control mode, the Leader robotic arm will send its joint angle information to other robotic arms via ESP-NOW communication. The other robotic arms which are in ESP-NOW Follower mode will imitate the same actions as the Leader in real time.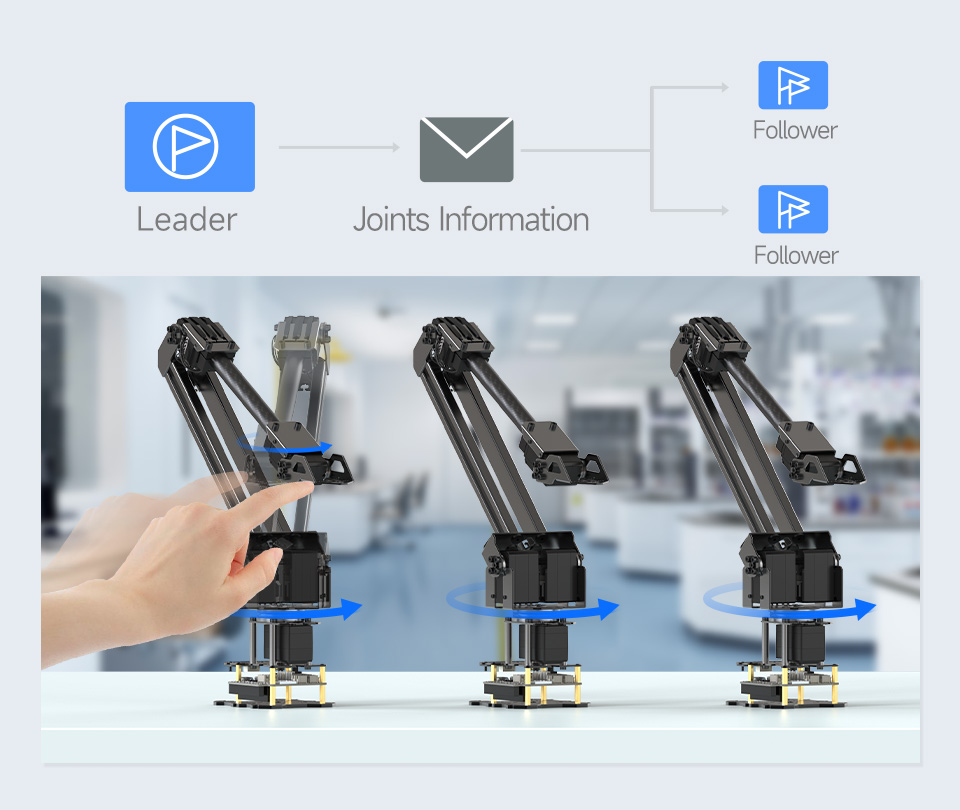 multiple Control interfaces,
multiple devices and languages Support
RoArm-M2-S can be controlled not only by the WEB application, but also supports using other controllers to send JSON commands via HTTP protocol network request, serial communication, or USB communication for controlling and obtaining feedback.
Multiple installation methods for Integrating into Your Application
Provides multiple installation schemes and related secondary development resources, suitable for different usage scenarios and can be flexibly integrated into your projects and applications
Easy To install different peripherals
The main structure of the upper arm adopts two 1020 European standard aluminum rails, supports installing additional peripherals via the boat nuts to meet different needs. Comes with boat nuts and corresponding M4 screws for easy installation.
Supports installing a camera
to extend visual applications
Comes with a camera holder and open source for the related drawings.
You can directly install a camera with the corresponding size or other cameras
with an adapter
Supports expanding different EoAT
for more functions
Comes with an expansion plate, easy for users to expand and replace different EoAT
for more functions
Onboard ESP32 Main control board
Adopts ESP32 powerful main control MCU, supports Multiple wireless communication protocols, with a large amount of open source resources to help secondary development of innovative applications
Compatible with ROS2, Provides
model establishment File and supports
multi-device cooperation
Provides communication nodes of ROS2, URDF model description file and zero-based tutorial of ROS2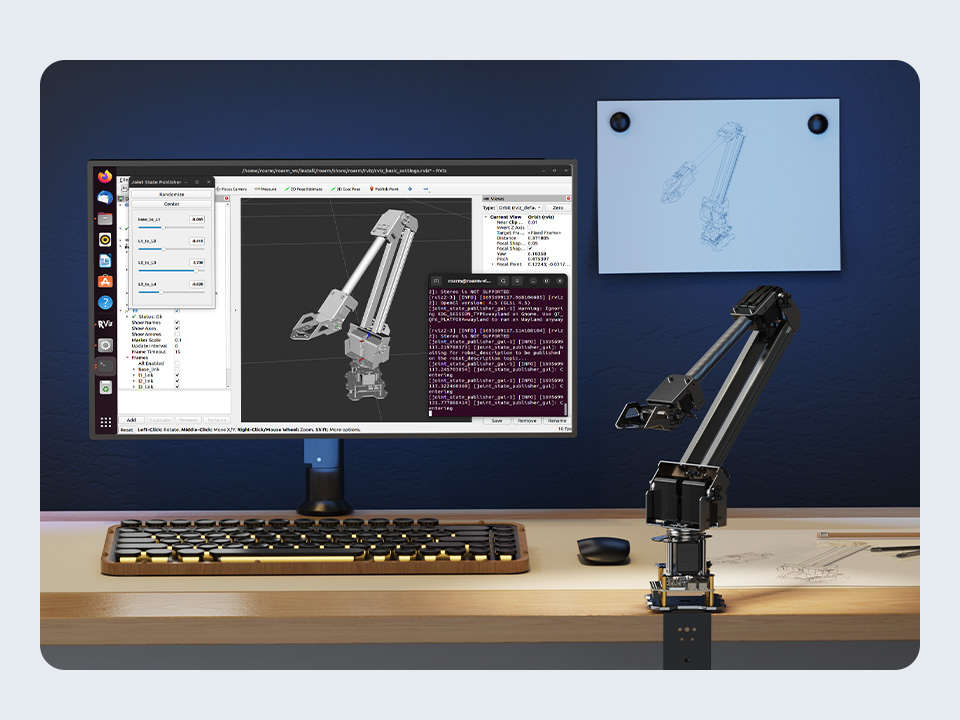 rich tutorial resources for
secondary development
We provide complete unit tutorials and cases, including various functions and common application scenarios, to help users get started quickly for secondary development
General Driver Board for Robots
Onboard rich interfaces and resources for innovative development and functional expansion
ESP32-WROOM-32 controller module
Can be developed using Arduino IDE
IPEX1 WIFI connector
For connecting WIFI antenna to increase the wireless communication distance
LIDAR interface
Integrated radar adapter function
I2C peripheral expansion interface
For connecting with OLED screen or other I2C sensors
Reset Button
Press and release to reboot the ESP32
Download button
The ESP32 will enter the download mode after powering on
DC-DC 5V voltage regulator circuit
Power supply for host computers such as Raspberry Pi or Jetson nano
Type-C port (LADAR)
LIDAR data transmission
Type-C port (USB)
ESP32 communication interface, for uploading programs to ESP32
XH2.54 power port
Support DC 7~13V input, can directly power the serial bus servos and motors
INA219
voltage/current monitoring chip
Power ON/OFF
External power supply ON/OFF
ST3215 serial bus servo interface
For connecting with ST3215 serial bus servo
Motor interface PH2.0 6P
Group B interface for motor with encoder
Motor interface PH2.0 6P
Group A interface for motor with encoder
Motor interface PH2.0 2P
Group A interface for motor without encoder
Motor interface PH2.0 2P
Group B interface for motor without encoder
AK09918C
3-axis electronic compass
QMI8658C
6-axis motion sensor
TB6612FNG
Motor Control Chip
Serial bus servo control circuit
for controlling multiple ST3215 serial bus servos and obtaining servos feedback
TF card slot
Can be used to store logs or WIFI configurations
40PIN GPIO header
For connecting with Raspberry Pi or other host boards
40PIN extended header
Easy to use the GPIO pins of Raspberry Pi or other host boards
CP-2102
UART to USB, for radar data transmission
CP-2102
UART to USB, for ESP32 communication
Automatic download circuit
For Uploading programs to the ESP32 without pressing the EN and BOOT buttons
Diversified onboard resources
Supports function expansion
Integrated TB6612FNG motor drive IC, INA219 battery voltage Monitoring, and 9-axis
IMU sensor, supports function expansion and innovation
Mouse drag-and-drop interaction
Provides Web applications and desktop software (open-source programs developed by Python), supports setting action instructions when the mouse is pressed and released
to control the robotic arm flexibly
Specifications
| | |
| --- | --- |
| DOF | 4 |
| Work space | Horizontal diameter: 1090mm (Max, 360° omnidirectional), Vertical: 798mm (Max) |
| Operating voltage | 12V 5A power supply, supports 3S Lithium batteries (NOT included) |
| Load capacity | [email protected] |
| repositioning precision | ≈±4mm (under the same load) |
| Servo rotation speed | 40rpm (no-load, no torque limit) |
| Operating range | BASE-360°, SHOULDER-180°, ELBOW-180°, HAND-135°/270° |
| Drive type | TTL Serial bus servo, direct-drive joint |
| Servo numbers | 5 |
| Joint angle sensor | 12-bit 360° magnetic encoder |
| Servo torque | 30KG.CM @12V |
| Joint feedback information | servo status, joint angle, rotation speed, joint load, servo voltage, servo current, servo temperature and servo working mode |
| Main control | ESP32-WROOM-32 |
| Main control module features | WiFi, BT, Dual Core, 240MHz |
| Wireless control mode | 2.4G-WiFi, ESP-NOW |
| Wired control mode | USB, UART |
| Manual operation mode | WEB control interface |
| Host operation mode | UART/USB/ESP-NOW*/HTTP communication via JSON data format commands (* it does not support obtaining feedback information if using ESP-NOW communication) |
| Host support | USB connection devices including Raspberry Pi, Jetson Orin Nano, and PC. |
| EoAT function | clamp function by default, can be changed as an additional degree of freedom |
| LED power | ≤1.5W |
| OLED screen size | 0.91inch |
| Other functions | 2-ch 12V power supply switch, 9-DOF IMU |
| Robotic arm weight | 826 ±15g (not including the table edge fixing clamp) |
| table edge fixing clamp weight | 286 ± 10g |
| Supported table edge thickness of the clamp | <72mm |
| Demo | 3D Cartesian coordinate system control (inverse kinematics control); Dynamic external force adaptive control; Joint angle control; Operating information feedback; FLASH files system operation; Steps recording and replaying; ESP-NOW control; Leading-Following mode (Hand guiding control); LED control; 12V power supply ON/OFF control; WiFi function settings; Set startup tasks; Serial bus servo settings; Feedback mode setting; EoAT mode setting, etc. (Note: Please refer to the WIKI for more details) |
Product show
Dimensions
Resources & Services

* Resources for different product may vary, please check the wiki page to confirm the actually provided resources.
Quick Overview