Description

Package Content
Details
PicoGo mobile robot, based on Raspberry Pi Pico, self driving, remote control
PicoGo mobile robot
a smart mobile robot based on Raspberry Pi Pico
Product features
Smart robot is always the favorite project of electronic enthusiasts, and there've been several robots based on Raspberry Pi Zero W, 3B+, 4B in Waveshare's product line. Now, here comes the Pico version: PicoGo!
The PicoGo is a smart mobile robot based on Raspberry Pi Pico, it includes ultrasonic module, LCD module, Bluetooth module, line following module, and obstacle avoidance module, all these functions are highly integrated for easily achieving IR obstacle avoidance, auto line following, Bluetooth/IR remote control, and more. With various advanced features, it will help you fast get started with smart robot design and development.
PicoGo smart mobile robot features:
Standard Raspberry Pi Pico header, supports Raspberry Pi Pico series
Battery protection circuit: over charge/discharge protection, over current protection, short circuit protection, reverse proof, more stable and safe operating
Recharge/Discharge circuit, allows programming/debugging concurrently while recharging
5-ch infrared sensor, analog output, combined with PID algorithm, stable line tracking
Onboard multiple smart robot sensors like line tracking, obstacle avoidance, no more messy wiring
1.14inch IPS colorful LCD display, 240 x135 pixels, 65K colors
Integrates Bluetooth module, allows teleoperations like robot movement, RGB LED display color, buzzer, etc. by using mobile phone APP
N20 micro gearmotors, with metal gears, low noise, high accuracy
Colorful RGB LED, pretty cool!
* the Raspberry Pi Pico is optional.
Based on Raspberry Pi Pico
Raspberry Pi Pico controller board features:
RP2040 microcontroller chip designed by Raspberry Pi in the United Kingdom
Dual-core Arm Cortex M0+ processor, flexible clock running up to 133 MHz
264KB of SRAM, and 2MB of on-board Flash memory
USB 1.1 with device and host support
Low-power sleep and dormant modes
Drag-and-drop programming using mass storage over USB
Highly integrated functions
no more messy wiring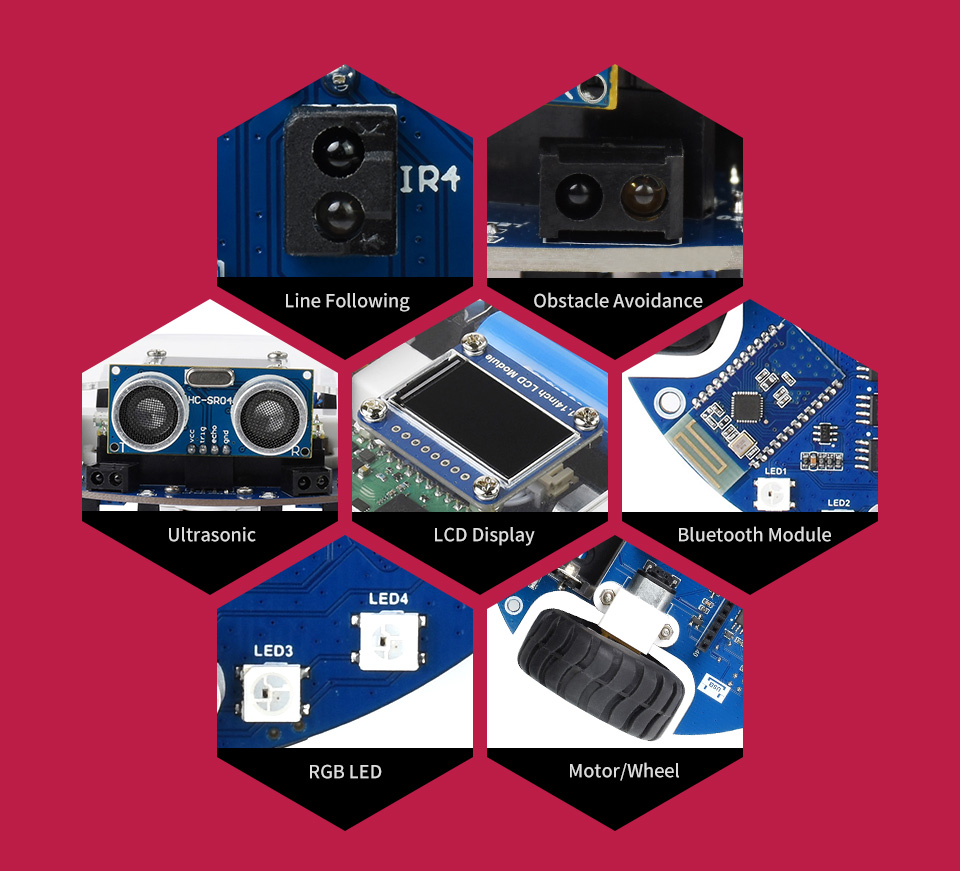 Longer battery life, more protections
Powered by 2x 14500 Li-ion batteries (NOT included), supports running while recharging, with multiple battery protection circuits including over charge/discharge protection, over current protection, short circuit protection, and reverse proof, together with battery life indicator and battery voltage monitor, more stable and safe operating
SAFETY CAUTIONS
Li-ion and Li-po batteries are quite unstable. They may cause fire, personal injury, or property damage, if they're not properly recharged or used.
Do not reversely connect the polarities when recharging or discharging the battery. Do not use inferior charger/charging panel to recharge the battery.
Do not mix use old batteries with new ones, avoid using batteries of different brands.
When buying Lithium battery, should always make sure the battery specification is compatible with the expansion board. Choose batteries from formal manufacturer, and ensure the batteries will work stably and safely by aging test.
Lithium batteries have limited cycle life, they will also deteriorate as time goes by. Should be replaced with new ones when the batteries reaching their max cycle life, or working over two years, whichever comes first.
Should be placed carefully and properly, keep it away from inflammables and explosives articles, away from children, avoid any safety accident caused by careless storage.
Full Functionality
Various ways to release your creativity
IR obstacle avoidance
The module sends IR beam and detects objects by receiving the reflected IR beam, to easily avoid obstacles in the way.
Auto line following
Features 5-ch IR detector for sensing and analysing the black line, combined with PID algorithm for adjusting robot movement, high sensitivity, stable tracking.
Ultrasonic sensor
Ultrasonic is generally faster and easy-to-calculate, suitable for functions like real time control, and obstacle avoidance, with the industrial practical ranging accuracy, it is widely used on robot research and development.
Object tracking
The robot is able to detect front object by ultrasonic or IR, and keeps moving to track the target automatically
IR remote control
Integrates IR receiver, so that you can control the robot to move or turn direction by sending infrared light from the remote controller
Bluetooth remote control
Comes with mobile phone APP, allows you to use the phone to control the movement of the robot, or control its peripherals like changing LED color, making the buzzer to sound, etc.
For more examples, refer to demo codes and manual on our wiki.
SHOW TIME
Auto line following
Object tracking
Obstacle avoidance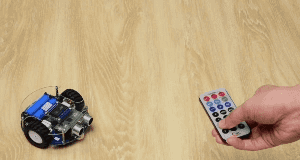 IR remote control
RGB LED control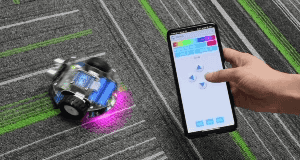 Bluetooth remote control
Dimensions
Resources & Services


---
* Resources for different product may vary, please check the wiki page to confirm the actually provided resources.
Weight: 0.359 kg
Quick Overview
Note: this product requires two 14500 batteries to work, which are NOT included and should be purchased separately.
OPTIONS

Raspberry Pi Pico (pre-soldered header) x1
PicoGo base board x1
PicoGo acrylic panel x1
1.14inch LCD Module x1
Ultrasonic sensor x1

OPTIONS

5V 3A power supply x1
IR remote controller x1
USB-A to micro-B cable 1.2m x1
PH2.0 8Pin cable 5cm opposite side headers x1
Mini cross wrench sleeve x1
Screwdriver x1
Screws and standoffs pack x1