Description

Package Content
Details
2-Channel Isolated CAN FD Expansion HAT for Raspberry Pi, CAN FD support, Multi Onboard Protection Circuits
2-Channel CAN FD HAT
for Raspberry Pi
Multi protections, high anti-interference capability, stable operation
Features at a glance
The 2-CH CAN FD HAT is a 2-Channel CAN bus expansion HAT designed for Raspberry Pi, supports CAN FD (CAN with Flexible Data-Rate). It will enable CAN bus for your Raspberry Pi, not only the original CAN 2.0 protocol, but also the CAN FD extension, with higher data throughput.
Thanks to multi onboard protection circuits, including 500W lightningsurge, ESD protection, short circuit protection, and electrical isolation, it make the communication more safe and more reliable.
Standard Raspberry Pi 40PIN GPIO extension header, supports Raspberry Pi series boards, Jetson Nano
Supports both traditional CAN2.0 and CAN FD protocols
Breakout SPI control pins, for connecting with host control boards like STM32/Arduino
Onboard electrical isolation, up to 5KV isolated voltage, stable operation, higher anti-interference capability
Onboard lightningproof, ESD protection, short circuit protection, more safe communication
Onboard voltage translator, select 3.3V/5V operating voltage by jumper
Onboard 120Ω terminal resistor, configured by jumper
Comes with development resources and manual (examples for Raspberry Pi/Arduino)
Specifications
| | |
| --- | --- |
| CAN controller | MCP2518FD |
| Control bus | SPI |
| Power supply | External power supply terminal OR Raspberry Pi |
| Screw terminalinput voltage | DC 8~28V |
| Operating voltage | 5V |
| Logic level | 3.3V/5V |
| Dimensions | 65.0 × 56.5mm |
What can it do?
enable isolated and stable CAN FD capability for your Raspberry Pi
Designed for Raspberry Pi series
Standard Raspberry Pi 40PIN GPIO header, customized for Raspberry Pi series boards
2-Channel CAN support
MCP2518FD CAN controller + CAN transceiver chip
up to 4-CH CAN by cascading
onboard SPI0 / SPI1 chip select and interrupt pin configuration, avoid conflicting with other SPI slave devices, also used for cascading to support 4-ch CAN communication
* multi HATs required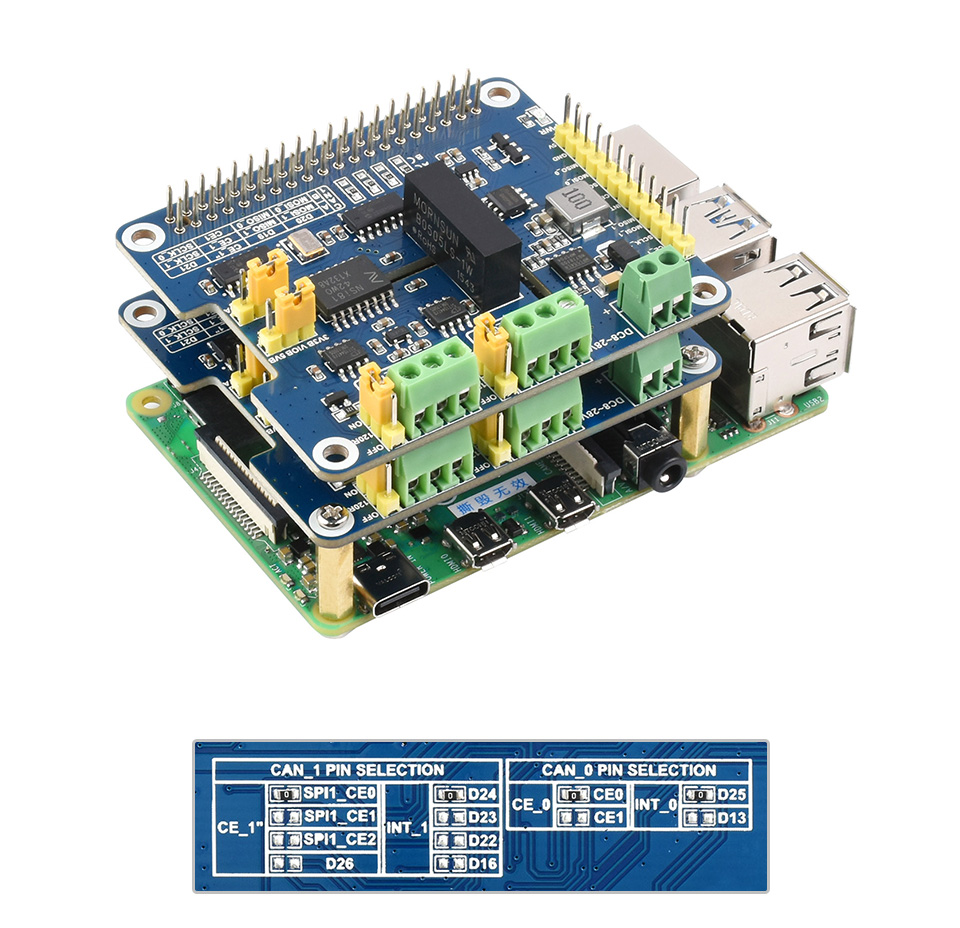 Jumper
CAN_1 control pin config
CAN_0 control pin config
chip select (CE_1")
interrupt (INT_1)
chip select (CE_0)
interrupt (INT_0)
default
SPI1_CE0 (D18)
D24
CE0 (D8)
D25
options
SPI1_CE1 (D17)
D23
CE1 (D7)
D13
options
SPI1_CE2 (D16)
D22
backward compatible
D26
D16
Electrical isolation circuitry
safe & stable
SM24CANB TVS diode, ESD protection, transient peak voltage protection
Flexible and handy jumpers
easily select 3.3V / 5V operating voltage, or enable/disable 120Ω terminal resistor, via onboard jumpers
What's On Board
MCP2518FD controller
Transceiver chip
SI8642ED digital isolator
MP1584EN power chip
RT9193-33 power chip
B0505LS-1W power supply isolation module
Standard Raspberry Pi 40PIN GPIO header
CAN bus screw terminal
External power supply terminal
8~26V DC input
MCU control pins
for use with host boards like Arduino
120Ω terminal resistor switch
3.3V/5V logic level switch
CAN operating mode selection
A: CAN_0 and CAN_1 use two separated SPI (default)
B: CAN_0 and CAN_1 share a single SPI
Power indicator
Freewheeling diode
SM24CANB TVS diode array
Power supply reverse-proof diode
2A fast resettable fuse
Pinout definition
Outline dimensions
Resources & Services


---
* Resources for different product may vary, please check the wiki page to confirm the actually provided resources.
Weight: 0.03 kg
Quick Overview