Description

Package Content
Details
Dual Gigabit Ethernet Mini-computer based on Raspberry Pi Compute Module 4 (NOT included), metal case, with cooling fan
Dual Gigabit ETH computer
based on CM4
Designed for Raspberry Pi Compute Module 4
Waveshare CM4-DUAL-ETH-BASE inside, fast and easy to build a mini-computer
Waveshare CM4 Dual Gigabit Ethernet Base inside
make it easy to build your own Raspberry Pi CM4 mini PC
for reference only, CM4 and antenna are NOT included.
Comparing the expansion boards
CM4 IO Board

mini Base

Dual Gigabit ETH

PoE Base (B)

PoE Base

Raspberry Pi official
Lite Ver.
Full Ver.
PoE
N/A
integrates 802.3af-compliant PoE circuit (5V/2.5A)
PoE header only
USB
USB 2.0 × 2
USB 2.0 × 2 (via FFC connector)
USB 3.2 Gen1 × 3
USB 2.0 × 4
USB 3.2 Gen1 × 4
USB 2.0 × 4
(2x via pin header)
GPIO
Raspberry Pi 40PIN GPIO × 1
Header
M.2 slot × 1
N/A
RS485 × 1
RS232 × 1
PCIe Gen 2 × 1
N/A
PCIe Gen 2 × 1
HDMI
HDMI × 2
(1x via FFC connector)
supports 4K 30fps output
HDMI × 2
supports 4K 30fps output
DSI Display
MIPI DSI × 1
(15pin 1.0mm FPC)
MIPI DSI × 2
(15pin 1.0mm FPC)
MIPI DSI × 2
(22pin 0.5mm FPC)
CSI Camera
MIPI CSI-2 × 2
(15pin 1.0mm FPC)
MIPI CSI-2 × 2
(22pin 0.5mm FPC)
Power Input
5V
7V~36V
5V
7V~36V
12V
Fan
5V
5V / 12V
12V
no fan control
allows speed adjustment and measurement
RTC
N/A
Real-time clock with battery socket and ability to wake Compute Module 4
RJ45 Ethernet
Gigabit Ethernet
Dual Gigabit Ethernet
Gigabit Ethernet
CM4 Socket
suitable for all variants of Compute Module 4
SD Card Slot
MicroSD card socket for Compute Module 4 Lite (without eMMC) variants
Dimensions (mm)
85.0 × 56.0
109.0 × 91.5
124.50 × 108.80
160 × 90
Rich interfaces
providing interfaces including: ETH/CSI/DSI/RTC/HDMI/Micro SD/USB
Precise cut-out with clear label
each cut-out is completely aligned with the connector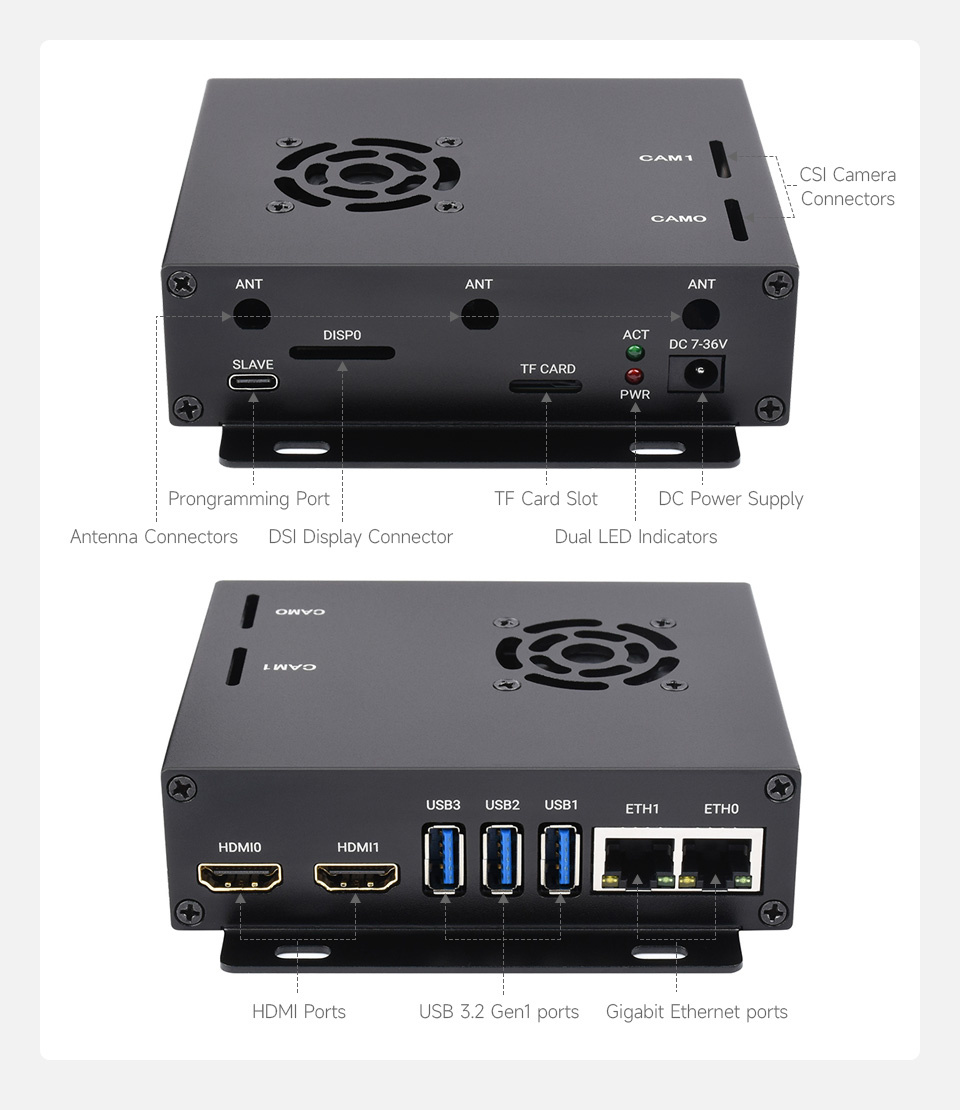 Cooling fan included
comes with cooling fan, combined with the airflow vent, better heat dissipation
Wall mount support
wall mount holes on two sides, handy for mounting
Application examples
Binocular Vision Raspberry Pi Projects, Or Other Industrial Context
for reference only, display, cameras, and antenna are NOT included.
Outline dimensions
Resources & Services


---
* Resources for different product may vary, please check the wiki page to confirm the actually provided resources.
Quick Overview
CM4-DUAL-ETH-BASE x1
Metal case (top and bottom) x1
Fan-4010-PWM-12V x1
Screwdriver x1
Screws pack x1

OPTIONS

12V 2A power adapter x1