Description

Package Content
Details
800×480, 7.5inch E-Ink raw display, SPI interface, without PCB
Overview
This is an E-Ink raw display, 7.5inch, 800×480 resolution, with embedded controller, communicating via SPI interface.
Due to the advantages like ultra low power consumption, wide viewing angle, clear display without electricity, it is an ideal choice for applications such as shelf label, industrial instrument, and so on.
Features
No backlight, keeps displaying last content for a long time even when power down
Ultra low power consumption, basically power is only required for refreshing
Comes with development resources and manual (driver board schematic, examples for Raspberry Pi/Jetson Nano/Arduino/STM32)
Specifications
Operating voltage: 3.3V
Interface: 3-wire SPI, 4-wire SPI
Outline dimension: 170.2mm × 111.2mm × 1.18mm
Display size: 163.2mm × 97.92mm
Dot pitch: 0.205 × 0.204
Resolution: 800×480
Display color: black, white
Grey scale: 2
Full refresh time: 5s
Refresh power: 38mW(typ.)
Standby power: <0.017mW
Viewing angle: >170°
Revision History
Revision V2 has been released on 2019.11, the resolution is upgraded to 800×480, from 640×384 of V1. The hardware and interface of V2 are compatible with V1, however, the related software should be updated.
Development Resources
Wiki : www.waveshare.com/wiki/7.5inch_e-Paper_HAT
Recommended
To fastly get started with this raw display, please consider the following driver boards:
Selection Guide
| Part Number | Colors | Grey Scale | Resolution | Display size (mm) | Outline Dimension (mm) | Full Refresh Time (s) | Partial Refresh | Flexible | Interface |
| --- | --- | --- | --- | --- | --- | --- | --- | --- | --- |
| 1.02inch e-Paper | black, white | 2 | 128×80 | 21.76 × 14.00 | 32.57 × 18.60 × 0.98 | 2 | √ | | SPI |
| 1.54inch e-Paper | black, white | 2 | 200×200 | 27.60 × 27.60 | 37.32 × 31.80 × 1.05 | 2 | √ | | SPI |
| 1.54inch e-Paper (B) | red, black, white | 2 | 200×200 | 27.60 × 27.60 | 37.32 × 31.80 × 1.05 | 14 | | | SPI |
| 1.54inch e-Paper (C) | yellow, black, white | 2 | 152×152 | 27.51 × 27.51 | 37.30 × 31.80 × 0.98 | 27 | | | SPI |
| 1.64inch e-Paper (G) | red, yellow, black, white | 2 | 168×168 | 29.568 × 29.568 | 45.5 × 36.4 × 0.91 | 12 | | | SPI |
| 2.13inch e-Paper | black, white | 2 | 250×122 | 48.55 × 23.71 | 59.20 × 29.20 × 1.05 | 2 | √ | | SPI |
| 2.13inch e-Paper (B) | red, black, white | 2 | 250×122 | 48.55 × 23.71 | 59.20 × 29.20 × 0.98 | 15 | | | SPI |
| 2.13inch e-Paper (C) | yellow, black, white | 2 | 212×104 | 48.55 × 23.71 | 59.20 × 29.20 × 0.98 | 15 | | | SPI |
| 2.13inch e-Paper (D) | black, white | 2 | 212×104 | 48.55 × 23.71 | 59.20 × 29.20 × 0.30 | 2 | √ | √ | SPI |
| 2.36inch e-Paper (G) | red, yellow, black, white | 2 | 296×168 | 52.096 × 29.568 | 68.1 × 37.9 × 0.85 | 12 | | | SPI |
| 2.66inch e-Paper | black, white | 2 | 296×152 | 30.704 × 60.088 | 36.304 × 71.820 × 1.00 | 6 | √ | | SPI |
| 2.66inch e-Paper (B) | red, black, white | 2 | 296×152 | 30.704 × 60.088 | 36.304 × 71.820 × 1.00 | 15 | | | SPI |
| 2.7inch e-Paper | black, white | 4 | 264×176 | 57.29 × 38.19 | 70.42 × 45.80 × 0.98 | 6 | √ | | SPI |
| 2.7inch e-Paper (B) | red, black, white | 2 | 264×176 | 57.29 × 38.19 | 70.42 × 45.80 × 0.98 | 15 | | | SPI |
| 2.9inch e-Paper | black, white | 2 | 296×128 | 66.89 × 29.05 | 79.00 × 36.70 × 1.05 | 2 | √ | | SPI |
| 2.9inch e-Paper (B) | red, black, white | 2 | 296×128 | 66.89 × 29.05 | 79.00 × 36.70 × 1.18 | 15 | | | SPI |
| 2.9inch e-Paper (C) | yellow, black, white | 2 | 296×128 | 66.89 × 29.05 | 79.00 × 36.70 × 1.18 | 15 | | | SPI |
| 2.9inch e-Paper (D) | black, white | 2 | 296×128 | 66.90 × 29.06 | 79.00 × 36.70 × 0.34 | 2 | √ | √ | SPI |
| 3inch e-Paper (G) | red, yellow, black, white | 2 | 400×168 | 70.4 × 29.568 | 86.4 × 39.2 × 0.85 | 12 | | | SPI |
| 3.52inch e-Paper | black, white | 2 | 360×240 | 74.51 × 49.67 | 84.70 × 54.41 × 1.18 | 1.5 | | | SPI |
| 3.7inch e-Paper | black, white | 4 | 480×280 | 47.32 × 81.12 | 54.90 × 93.30 × 0.78 | 3 | √ | | SPI |
| 4.01inch e-Paper (F) | 7-Color | 2 | 640×400 | 86.40 × 54.00 | 96.80 × 68.70 × 0.91 | 30 | | | SPI |
| 4.2inch e-Paper | black, white | 4 | 400×300 | 84.80 × 63.60 | 91.00 × 77.00 × 1.18 | 4 | | | SPI |
| 4.2inch e-Paper (B) | red, black, white | 2 | 400×300 | 84.80 × 63.60 | 90.10 × 77.00 × 1.18 | 15 | | | SPI |
| 4.2inch e-Paper (C) | yellow, black, white | 2 | 400×300 | 84.80 × 63.60 | 90.10 × 77.00 × 1.18 | 25 | | | SPI |
| 4.37inch e-Paper (G) | red, yellow, black, white | 2 | 512×368 | 90.11 × 64.77 | 99.5 × 79.5 × 0.85 | 14 | | | SPI |
| 5.65inch e-Paper (F) | 7-Color | 2 | 600×448 | 114.9 × 85.8 | 125.4 × 99.5 × 0.91 | <35 | | | SPI |
| 5.83inch e-Paper | black, white | 2 | 648×480 | 119.232 × 88.320 | 125.40 × 99.50 × 1.18 | 5 | | | SPI |
| 5.83inch e-Paper (B) | red, black, white | 2 | 648×480 | 119.232 × 88.320 | 125.40 × 99.50 × 1.18 | 20 | | | SPI |
| 6inch HD e-Paper | black, white | 16 | 1448×1072 | 122.40 × 90.60 | 138.40 × 101.80 × 1.01 | <1 | √ | | Parallel port |
| 7.3inch e-Paper (F) | 7-Color | 2 | 800×480 | 160 × 96 | 170.2 × 111.2 × 0.91 | 35 | | | SPI |
| 7.3inch e-Paper (G) | red, yellow, black, white | 2 | 800×480 | 160 × 96 | 170.2 × 111.2 × 0.91 | 16 | | | SPI |
| 7.5inch e-Paper | black, white | 2 | 800×480 | 163.20 × 97.92 | 170.20 × 111.20 × 1.18 | 5 | | | SPI |
| 7.5inch e-Paper (B) | red, black, white | 2 | 800×480 | 163.20 × 97.92 | 170.20 × 111.20 × 1.18 | 16 | | | SPI |
| 7.5inch e-Paper (G) | black, white | 2 | 800×480 | 163.20 × 97.92 | 177.20 × 118.20 × 2.00 | 5 | | | SPI |
| 7.5inch HD e-Paper (B) | red, black, white | 2 | 880×528 | 163.24 × 97.94 | 170.20 × 111.20 × 1.25 | 21 | | | SPI |
| 7.5inch e-Paper (C) | yellow, black, white | 2 | 640×384 | 163.20 × 97.92 | 170.20 × 111.20 × 1.18 | 16 | | | SPI |
| 7.8inch e-Paper | black, white | 16 | 1872×1404 | 158.18 × 118.64 | 173.80 × 127.60 × 0.78 | <1 | √ | | Parallel port |
| 9.7inch e-Paper | black, white | 16 | 1200×825 | 202.8 × 139.43 | 218.80 × 156.425 × 1.15 | <1 | √ | | Parallel port |
| 10.3inch e-Paper | black, white | 16 | 1872×1404 | 209.66 × 157.25 | 216.70 × 174.40 × 0.78 | <1 | √ | | Parallel port |
| 10.3inch e-Paper (D) | black, white | 16 | 1872×1404 | 209.66 × 157.25 | 227.70 × 165.80 × 0.647 | <1 | √ | √ | Parallel port |
| 12.48inch e-Paper | black, white | 2 | 1304×984 | 252.98 × 190.90 | 261.50 × 211.00 × 0.30 | <8 | | | SPI |
| 12.48inch e-Paper (B) | red, black, white | 2 | 1304×984 | 252.98 × 190.90 | 261.40 × 211.00 × 1.20 | 37 | | | SPI |
| 13.3inch e-Paper | black, white | 16 | 1600×1200 | 270.40 × 202.80 | 285.80 × 213.65 × 0.78 | <1 | √ | | Parallel port |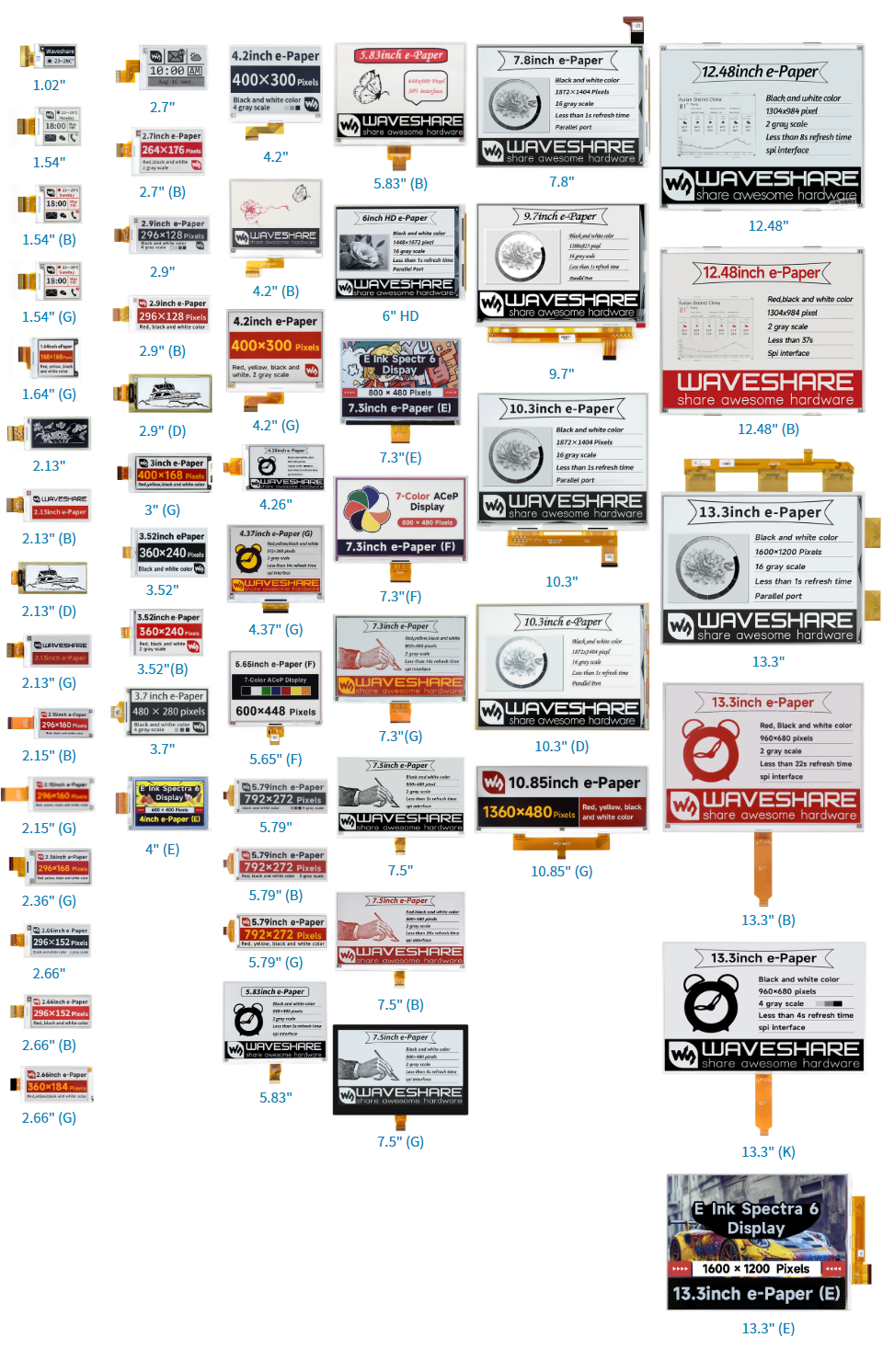 Weight: 0.044 kg
Quick Overview
Note: This is a raw display, for easy testing and comparing, please consider the one with driver board: 7.5inch e-Paper HAT
7.5inch e-Paper x1