Description

Package Content
Details
800x600, 4.3inch serial interface electronic paper display
Overview
This is a serial interface E-Ink display module, 4.3inch, 800×600 resolution, with embedded font libraries, ultra low power consumption.
You don't have to know anything about the complex underlying details of e-Paper, nor the specific algorithms of displaying graphics, texts, and images. All it needs is the serial interface, and all it matters is your creativity.
Features
Easy to use, displays any contents via one serial interface, including geometric graphics, texts, and images
Embedded font libraries, supports 32, 48 and 64 dot matrix GBK Chinese fonts and English fonts
Built-in 128MB NandFlash, allows the font/image data to be stored in either an external TF card or the internal NandFlash
4 grey level displaying, 800×600 resolution
Adjustable serial interface baud rate, 115200 by default when power up
Powered from 3.3V to 5V, compatible with logic level
Ultra low power consumption, sleeping current lower than 5mA
Comes with host computer software, control it directly on your computer
Applications
e book
Shopping mall POS
Price label
Industry instrument
Pin Definitions
VCC : 3.3V~5.5V
GND : GND
DOUT : Serial data out
DIN : Serial data in
WAKE_UP : External wake up
RST : External reset
Limited by the hardware processing, it usually takes 1.5s to refresh each single frame image, therefore, this e-Paper is NOT capable of playing animations.
External Dimension
Development Resources
Wiki : www.waveshare.com/wiki/4.3inch_e-Paper_UART_Module
Selection Guide
Part Number
Colors
Grey Scale
Resolution
Display size (mm)
Outline Dimension (mm)
Full Refresh Time (s)
Partial Refresh1
Pi Head-er2
Flexi-ble
Interface
1.02inch e-Paper Module
black, white
2
128×80
21.76 × 14.00
42.0 × 27.0
2
√
SPI
1.54inch e-Paper Module
black, white
2
200×200
27.60 × 27.60
48.0 × 33.0
2
√
SPI
1.54inch e-Paper Module (B)
red, black, white
2
200×200
27.60 × 27.60
48.0 × 33.0
14
SPI
1.54inch e-Paper Module (C)
yellow, black, white
2
152×152
27.51 × 27.51
48.0 × 33.0
27
SPI
1.64inch e-Paper Module (G)
red, yellow, black, white
2
168×168
29.568 × 29.568
47 × 38
12
SPI
2.13inch e-Paper HAT
black, white
2
250×122
48.55 × 23.70
65.0 × 30.2
2
√
√
SPI
2.13inch e-Paper HAT (B)
red, black, white
2
250×122
48.55 × 23.70
65.0 × 30.2
15
√
SPI
2.13inch e-Paper HAT (C)
yellow, black, white
2
212×104
48.55 × 23.70
65.0 × 30.2
15
√
SPI
2.13inch e-Paper HAT (D)
black, white
2
212×104
48.55 × 23.70
59.2 × 29.2
2
√
√
√
SPI
2.13inch e-Paper HAT (G)
red, yellow, black, white
2
250×122
48.55 × 23.70
65.0 × 30.2
25
√
SPI
2.13inch Touch e-Paper HAT
black, white
2
250×122
48.55 × 23.70
69.15 × 38.90
2
√
√
SPI
2.13inch Touch e-Paper HAT (with case)
black, white
2
250×122
48.55 × 23.70
72.20 × 41.90
2
√
√
SPI
2.36inch e-Paper Module (G)
red, yellow, black, white
2
296×168
52.096 × 29.568
69.5 × 38.5
12
SPI
2.66inch e-Paper Module
black, white
2
296×152
30.704 × 60.088
37.0 × 83.5
6
√
SPI
2.66inch e-Paper Module (B)
red, black, white
2
296×152
30.704 × 60.088
37.0 × 83.5
15
SPI
2.7inch e-Paper HAT
black, white
4
264×176
57.29 × 38.19
85.0 × 56.0
6
√
√
SPI
2.7inch e-Paper HAT (B)
red, black, white
2
264×176
57.288 × 38.192
73.5 × 56.0
15
√
SPI
2.9inch e-Paper Module
black, white
4
296×128
66.89 × 29.05
89.5 × 38.0
3
√
SPI
2.9inch e-Paper Module (B)
red, black, white
2
296×128
66.89 × 29.05
89.5 × 38.0
15
SPI
2.9inch e-Paper Module (C)
yellow, black, white
2
296×128
66.89 × 29.05
89.5 × 38.0
15
SPI
2.9inch e-Paper HAT (D)
black, white
2
296×128
66.90 × 29.06
79.0 × 36.7
2
√
√
√
SPI
2.9inch Touch e-Paper HAT
black, white
4
296×128
66.89 × 29.05
89.10 × 42.70
3
√
√
SPI
3inch e-Paper Module (G)
red, yellow, black, white
2
400×168
70.4 × 29.568
88.5 × 41
12
SPI
3.52inch e-Paper HAT
black, white
2
360×240
74.51 × 49.67
86.5 × 57
1.5
√
SPI
3.7inch e-Paper HAT
black, white
4
480×280
47.32 × 81.12
58.0 × 96.5
3
√
√
SPI
4.01inch e-Paper HAT (F)
7-Color
2
640×400
86.40 × 54.00
98.5 × 70.0
30
√
SPI
4.2inch e-Paper Module
black, white
4
400×300
84.80 × 63.60
103.0 × 78.5
4
SPI
4.2inch e-Paper Module (B)
red, black, white
2
400×300
84.80 × 63.60
103.0 × 78.5
15
SPI
4.2inch e-Paper Module (C)
yellow, black, white
2
400×300
84.80 × 63.60
103.0 × 78.5
25
SPI
4.3inch e-Paper UART Module
black, white
4
800×600
88.00 × 66.00
118.0 × 75.0
1.5
UART
4.37inch e-Paper Module (G)
red, yellow, black, white
2
512×368
90.11 × 64.77
101.5 × 81.5
14
SPI
5.65inch e-Paper Module (F)
7-Color
2
600×448
114.9 × 85.8
138.5 × 100.5
<35
SPI
5.83inch e-Paper HAT
black, white
2
648×480
119.232 × 88.320
125.4 × 99.5
5
√
SPI
5.83inch e-Paper HAT (B)
red, black, white
2
648×480
119.232 × 88.320
125.4 × 99.5
20
√
SPI
6inch e-Paper HAT
black, white
16
800×600
122.4 × 90.6
138.4 × 101.8
<1
√
√
USB/SPI/
I80
6inch HD e-Paper HAT
black, white
16
1448×1072
122.4 × 90.6
138.4 × 101.8
<1
√
√
USB/SPI/
I80
7.3inch E-Paper HAT (F)
7-Color
2
800×480
160 × 96
170.2 × 111.2
35
√
SPI
7.3inch E-Paper HAT (G)
red, yellow, black, white
2
800×480
160 × 96
170.2 × 111.2
16
√
SPI
7.5inch e-Paper HAT
black, white
2
800×480
163.20 × 97.92
170.2 × 111.2
5
√
SPI
7.5inch HD e-Paper HAT
black, white
2
880×528
163.24 × 97.94
170.2 × 111.2
5
√
SPI
7.5inch e-Paper HAT (B)
red, black, white
2
800×480
163.20 × 97.92
170.2 × 111.2
26
√
SPI
7.5inch HD e-Paper HAT (B)
red, black, white
2
880×528
163.24 × 97.94
170.2 × 111.2
21
√
SPI
7.5inch e-Paper HAT (C)
yellow, black, white
2
640×384
163.20 × 97.92
170.2 × 111.2
16
√
SPI
7.8inch e-Paper HAT
black, white
16
1872×1404
158.18 × 118.64
173.8 × 127.6
<1
√
√
USB/SPI/
I80
9.7inch e-Paper HAT
black, white
16
1200×825
202.8 × 139.43
218.8×156.4
<1
√
√
USB/SPI/
I80
10.3inch e-Paper HAT
black, white
16
1872×1404
209.66 × 157.25
216.7 × 174.4
<1
√
√
USB/SPI/
I80
10.3inch e-Paper HAT (D)
black, white
16
1872×1404
209.66 × 157.25
227.7 × 165.8
<1
√
√
√
USB/SPI/
I80
12.48inch e-Paper Module
black, white
2
1304×984
252.98 × 190.90
280.0 × 229.5
<8
√
SPI
12.48inch e-Paper Module (B)
red, black, white
2
1304×984
252.98 × 190.90
280.0 × 229.5
37
√
SPI
13.3inch e-Paper HAT
black, white
16
1600×1200
270.40 × 202.80
285.80 × 213.65
<1
√
√
USB/SPI/
I80
13.3inch e-Paper HAT (K)
black, white
2
960×680
275.52 × 195.16
286.32 × 212.26
5
√
SPI
It usually takes about 0.3s for partial refresh
Pi Header: standard Raspberry Pi 40PIN GPIO extension header, supports Raspberry Pi series boards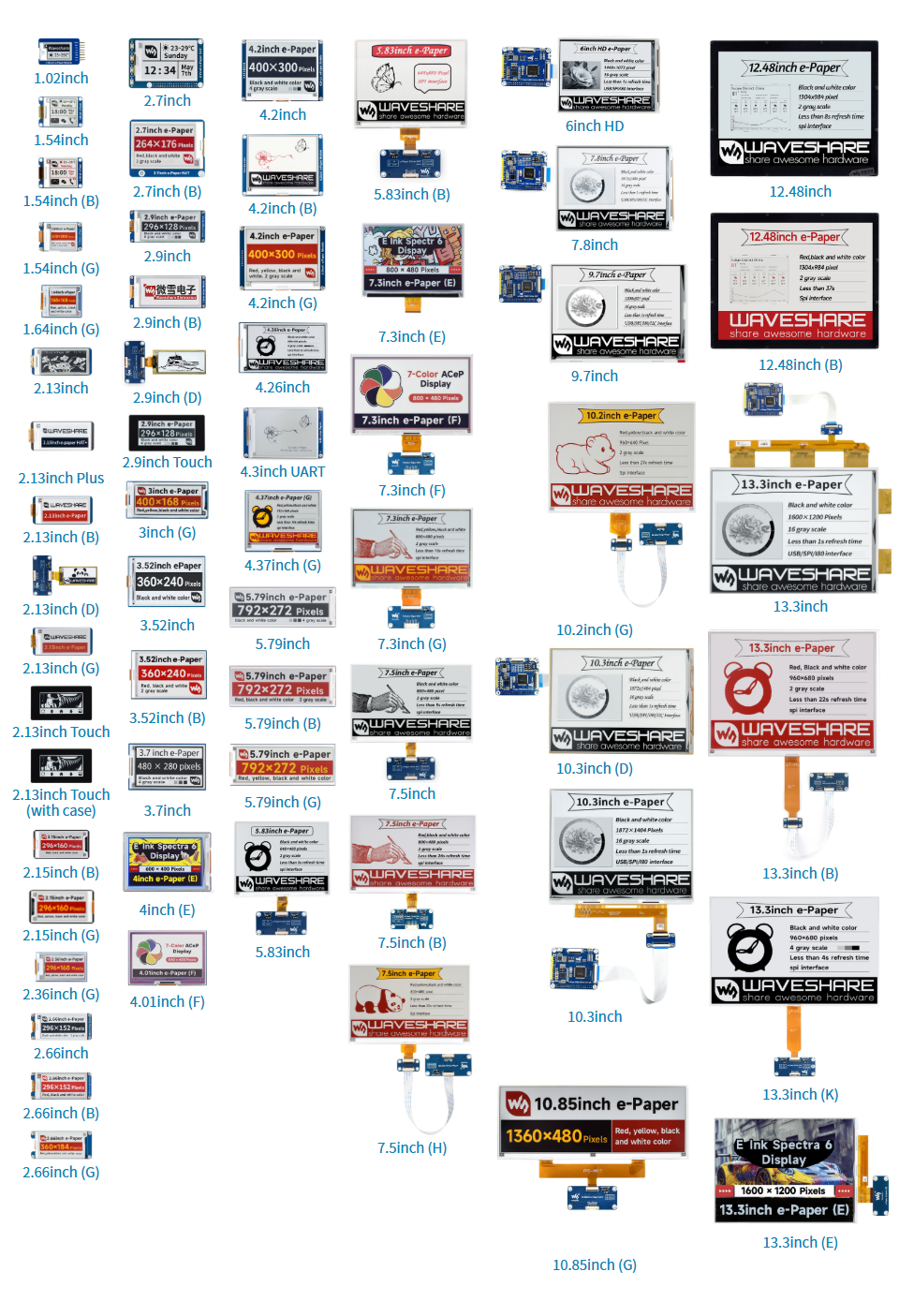 Weight: 0.11 kg
Quick Overview
4.3inch e-Paper UART Module x1
XH2.54 6-pin cable ×1